Graduate School
Research Faculty Member is Energized by Her Students
---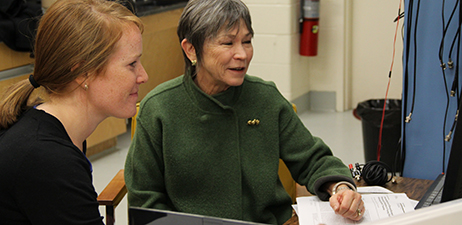 In 2014, Dr. Brenda Ryals, a professor of audiology in the Department of Communication Sciences and Disorders, was awarded the Honors of the Association Award which is the highest honor given by the American Speech-Language-Hearing Association (ASHA).
This wasn't the first time Dr. Ryals was recognized for her scholarship. She also received a Research Achievement Award from the American Academy of Audiology in 2003, and the Jerger Career Award for Research in Audiology from the American Academy of Audiology in 2012.
Now completing her 25th year at JMU, the university is lucky to have a scholar who is so dedicated to advancing the knowledgebase of her profession. But Dr. Ryals has not only been a scholar, she is also well known for her local, national and international service. She was the recipient of Distinguished Service Award from the College of Health and Behavioral Studies in 2014.
But beyond her scholarship, Dr. Ryals also shines in her professorial duties as seen in her work with her graduate students. She was instrumental in designing the proposal that brought the Ph.D. program in Communication Sciences and Disorders to JMU in 2002. This was JMU's first Ph.D. program.
Since that time Dr. Ryals has supervised more than 13 doctoral students. Dr. Ryals says that her "students have always provided such wonderful support." "Good students lift you up and make you better than you are." Dr. Ryals has mentored numerous students as they conducted independent research projects.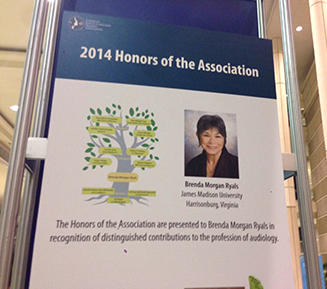 With minimal prompting, Dr. Ryals presents many examples of how her students have motivated and contributed to her work. She proudly lists their collaborative publications, presentations, and awards on her vita.
She is particularly proud to have mentored and chaired the dissertation work of the only Ph.D./Au.D. graduate from the CSD program, Kate Belzner Fernandez (2010). As a doctoral student, Kate was awarded two travel awards from the National Institute on Deafness and Other Communication Disorders (NIDCD) to present her research. Because of her scholarship, Kate was selected for a post-doctoral fellowship at the Massachusetts Eye and Ear Infirmary at Harvard Medical School.
Dr. Ryals is so proud of the accomplishments of her students; she was troubled by the request to identify individuals, for fear of leaving some out. However, she mentions the work of Ashleigh McCombs Dewell who collaborated with her to set up the Virginia Healthy Hearing program in 2003 before it became the national humanitarian effort for the Student Academy of Audiology. Ashleigh wrote and was awarded two research grants which were funded by the Special Olympics International to organize and improve their Healthy Hearing Program.
One of her other doctoral students, Kara Gray Wright (2008) was funded by the Special Olympics for her doctoral dissertation on improving otoscopic screening with Special Olympics athletes. Upon graduation Kara was selected to be one of the first audiologists hired to serve at the new Audiology Clinic at the Quantico Marine Corps Base. Katie Roper Demirel (2004), now at Georgetown Medical Center after working in New Zealand and Colorado; and Kristin Weyman Seawall (2004), recently selected as a Distinguished Alumni, and now a Clinical Audiologist in Harrisonburg.
In addition to working with her doctoral students, Ryals also enjoys being the faculty advisor to the Student Academy of Audiology, a professional organization within the American Academy of Audiology. She particularly enjoys supporting them in their humanitarian effort with the Special Olympics.
Dr. Ryals received the "Mentor of the Year Award" in 2007 from the National Association of Future Doctors of Audiology. Since that time, and through today, Dr. Ryals continues her research, service and graduate student mentorship. She is a model faculty member and we are proud to tout her accomplishments as a member of our community.
Last Updated: Wednesday, July 4, 2018