Graduate School
Exploring EXPO Milan 2015
---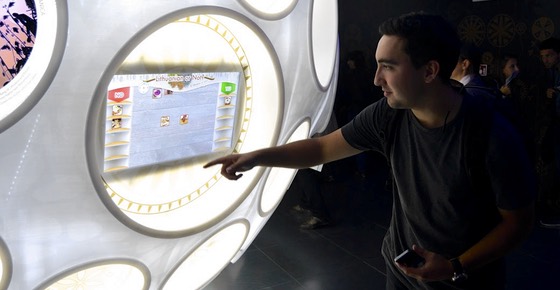 This year, students in James Madison University's M.A. in political science and Semester in Florence programs were able to visit EXPO 2015 in Milan, Italy. The Universal Exposition, or Expo, is the modern equivalent of the World's Fair and takes place every five years in a different host country. The theme of EXPO 2015 is "Feeding the Planet, Energy for Life," and the event explores the future of sustainable development and global food production.
On two occasions, in both May 2015 and September 2015, more than one hundred JMU undergraduate and graduate students, along with faculty and staff, joined the nearly 20,000,000 visitors predicted to visit EXPO during its six month run from May to October. Students had the opportunity to visit ninety-six pavilions that represented countries and organizations from all around the world. On average, students visited between ten and twelve pavilions during their visit.
Prior to their arrival, students performed preliminary research on the themes and topics central to the EXPO, including tradition, biodiversity, sustainability, climate and climate change, equilibrium, and innovation. Armed with this knowledge, they were able to critically analyze each demonstration and take away key points on sustainability and biodiversity, while at the same time enjoying the diverse traditions each pavilion had to offer.
JMU students were eager to jump into the educational and cultural aspects of their visit. "EXPO was such an incredible experience," said EUPS student Shannon Rano. "It challenged us to think about food production and sustainability in the future, but also allowed us to experience the unique cultural traditions of the countries represented." To JMU students, EXPO was more than just a visit. Students walked away from EXPO compelled to embrace the challenge encompassing the motto "Feeding the planet, energy for life".
While most expositions in the past have left a tangible legacy, such as the Eiffel Tower in France and the Space Needle in Seattle, EXPO Milan sought to leave a different sort of legacy, a cultural legacy through the Milan Charter. The Milan Charter is a participatory document that calls upon every "citizen, association, company, and institution to assume their responsibility in ensuring that future generations can enjoy the right to enjoy food."
Time to visit is running out. EXPO Milano 2015 ends October 31, 2015. For more information on EXPO Milano 2015, visit the official event website at http://www.expo2015.org/it
Official Photos: http://on.fb.me/1FT74qx; http://on.fb.me/1FT75uw