Graduate School
Matthew Williams current research associate at CISR
---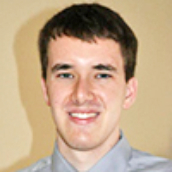 Matthew Williams is a student in the Master of Public Administration program and current research associate at the Center for International Stabilization and Recovery (CISR). He completed his B.A. in political science at JMU in December 2013 and has developed a wide range of experiences through scholarship and research at JMU that changed his own life for the better.
Williams always had an interest in the interplay between psychology and sociology on one hand and political systems, culture and media on the other. He says he has come to appreciate that we live in an age where we have a massive amount of data at our fingertips, but instead of resulting in consensus and clarity, it has made it more difficult than ever before to speak with authority. His time at James Madison University has allowed him to be part of finding answers to some of the questions confronting society today. During his undergraduate career, he had the opportunity to work with Dr. Jessica Irons of the psychology department as a teaching assistant. The experience built on his knowledge background in psychology and political science, and it helped him develop a research proposal on how political news is connected to attentional biases. His time in the political science department allowed him to research a variety of the issues impacting the world today, culminating in the development of a casual model predicting an individual's level of trust in government and a research paper on the Christian right and the GOP.
However, Williams approach to education and his future is that knowledge isn't useful if it isn't applied to how people grow as individuals or how our society is designed. His time as a master's student has allowed him to realize the desire for research that can provide applied solutions to the problems confronting the public and the organizations that inhabit it. He provided focus group testing, survey development and best practices recommendations for the Harrisonburg Community Health Center, where he worked in a group to help a clinic that is a major source of healthcare for lower-income individuals and vulnerable populations. He conducted a policy analysis for the local Clerk of the Court, Chaz Evans, on the use of drug courts, developed a negotiated rulemaking simulation on hydraulic fracturing that won first place in the 2015 national E-PARCC competition and worked with raw data from a local grant program to produce mock reports synthesizing statistical analyses and answering stakeholder questions.
Williams currently works as a research associate for the CISR, an opportunity that has allowed him to work with congressional members, CISR's Department of Defense partners and a wide variety of nonprofit partners to advocate for survivors of war and conflict. He has seen how research is an integral part of public service and being a global citizen as well as how public service involves the government working in hand with private and nonprofit actors to understand the needs of the public, an understanding that only comes from research.
Williams says, "A lot of programs do not give you the chance to go out and work in the community you've been living in for the past five years like the MPA program here has, and it's helped me to develop a level of skill I hadn't had before, while developing a closer connection to the Harrisonburg area itself. I see a lot of apathy, cynicism and increasing in-group behavior among people in regards to politics and some of the social issues of our time, and I believe we can only answer some of the questions inherent in these debates if we have well-rounded citizens that can draw on empirical research in the social sciences and physical sciences, as well as an understanding of art and media, normative debate, and individual differences. We need people whose lives are balanced and who realize that research, debate and learning about the world around you should be seen as something that is necessary to living a full life and becoming a better person."
As he prepares to graduate, Williams thinks about everyone who has helped him get to where he is now, saying "Leaving starts to feel strange, but I'm ready to go out and apply the skills I've learned over the past few years to not only build a more equitable, efficient and effective society, but a better me as well."