News
A different kind of engineer
Alumnus steps forward again to support STEM at JMU
---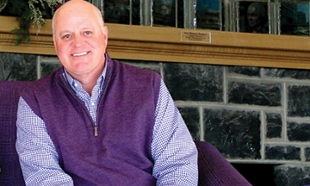 When Jeff Tickle ('90) decided to support JMU's innovative engineering program, he knew that the university was turning out just the right kind of engineers.
"When I was working for the family business, there was always a struggle for good engineers." Not just any engineers, he emphasizes, "but those who can understand process — how to do things."
Tickle's family business, headquartered in Bristol, Tennessee, is Strongwell, the world's largest company for pultrusion, a manufacturing process that combines polymers with fibers into a continuous molded product, which is adaptable to thousands of industrial and commercial uses.
'The way [JMU engineering] is structured is unique," Tickle says. "They are producing the kind of engineers that manufacturing needs — and manufacturing is the backbone of the American economy."
The engineering curriculum is designed to address human and societal problems with pragmatic design, rather than a wholly theoretical approach. The program combines traditional engineering coursework with hands-on design work, beginning in the first year — a rarity in undergraduate engineering.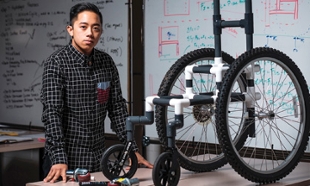 "Our students also do the full general education program, which is not the case at many of our sister engineering schools," says Bob Kolvoord, dean of the College of Integrated Science and Engineering. "So they develop a broader sense of not just the technology, but the context in which that technology sits. I think that gives them a competitive edge."
Tickle, an entrepreneur at heart who has taught math and science in addition to multiple business endeavors, knows the importance of education for industry and especially the critical relationship between the two. "We need people going into math and science—to study in those fields," he says.
Seeing an opportunity to encourage this kind of essential learning, several years ago Tickle created an endowment for JMU's College of Science and Math to help students directly. At last count, some 90 students have benefitted from Tickle's CSM endowment.
Now he has turned his attention to engineering. His new, unrestricted $2.5 million gift provides an endowment for planning but also dollars for immediate needs — "start-up cash, if you will," Tickle terms it. "Whatever the department needs right now. Kolvoord and [Kurt] Paterson [head of the department] have a great vision. I have the utmost confidence they'll spend it frugally and wisely."
"It's significant," Kolvoord says, "when a donor demonstrates this kind of trust in our university.  It gives us flexibility to be agile and responsive to the changing needs of the program. Jeff is a savvy businessman and he recognizes that it's very hard to anticipate today what things will be like tomorrow…. Jeff's gift represents a long-term investment in our engineering program. It's going to allow us to take the next step in becoming a national model for this kind of engineering program."