News
Finding Eternity
---
The Davises find a kind of eternity with a gift in memory of their son.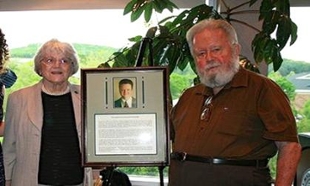 Following the death of their son, Jonathan Davis, his parents, Jane and Martin, have found the kind of comfort he might have offered. Jonathan was a counselor, having earned his undergraduate and master's degrees in psychology at JMU and a Ph.D. from the prestigious "Derner Institute" of Adelphi University.
In 1997, however, just as he was accepted into a prestigious post-doctoral program in psychoanalysis at New York City's Williams Alanson White Institute, Jonathan's personal battle with depression became more intense and he slipped away.
From their resilience and a desire to see Jonathan's life continue in some way, Jane and Martin established the Jonathan Douglas Davis Memorial Scholarship. Every year it is awarded to a degree-seeking graduate student enrolled in JMU's Department of Graduate Psychology and Counseling who has a particular interest in suicide prevention. More recently, the scholarship has expanded to include students interested in Post Traumatic Stress Syndrome.
Perhaps reflecting the Davises' Depression-era can-do attitude, the scholarship is designed to spark tangible, practical results. Such was the story of recipient Lisa Ellison ('12M), herself touched by her own brother's suicide. "She wanted [her project] to be something meaningful for survivors, families and friends, who'd lost somebody," says graduate psychology professor Lennis Echterling. She organized an Out of the Darkness Walk, a campus-wide event that supports networking for survivors, understanding of suicide, and funds research into suicide prevention. After Ellison graduated, the annual campus walk continued. Last year's walk drew some 300 walkers and raised more than $16,000 to fund research and education programs through the American Foundation for Suicide Prevention, Echterling says.
"There is an old Native American or Mexican saying that someone truly dies the last time someone says his name," Jane says. One hundred years from now, she knows Jonathan will be remembered. Students passing through JMU's Department of Psychology will see his portrait on the wall, and many will open letters informing them they are the fortunate recipients of a generous scholarship.
"They can read [about Jonathan] and know about him, and there will be some student—hopefully a bunch of students — all wanting to win this prize because it will go up, up, up. And so they would have … thought a lot about Jonathan and about suicide and hopefully suicide consciousness will have grown a lot more. People who have tried it, persons whose loved ones have tried it will come out of the closet and talk about it."
Martin and Jane Davis have found a kind of eternity in establishing the Jonathan Douglas Davis Memorial Scholarship. For generations to come, their beloved son's legacy will continue to support scholars whose research will untangle suicide and uncover secrets about the psychology of suicide prevention.
And Jonathan's name will continue to be spoken.