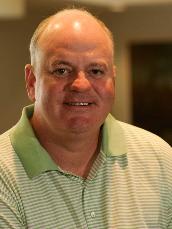 Jeff Tickle ('90)
Teacher, business executive, community leader
After graduating from JMU with a business degree, Jeff ran a manufacturing facility and, later, an import partnership. Then, he followed his heart and left the business world to become a high school math teacher in his hometown. His years as an executive had made him realize that no matter where he worked, he loved to train and teach. After selling his import business to his partner, he began substitute teaching and found he had a passion for math and science. He went back to school, earned his education license, and began teaching in an alternative school in Bristol, Tenn., with students who had been moved from regular classrooms due to behavioral issues. "They've given up almost, but if we can be a positive role model, maybe we can influence them in some way," Jeff said of the experience. Now a high school teacher, he's also created the Tickle Family Endowment for Science and Mathematics at JMU and is helping to establish the Mountain Empire Science Center in Bristol, Va. The center, which is affiliated with the Science Museum of Virginia, will give young people a chance to experience science on a whole new level.
"My only goals really are to be a good citizen and do things to help my community, whether it be teaching, working with different agencies, providing jobs — those are the only goals I have."