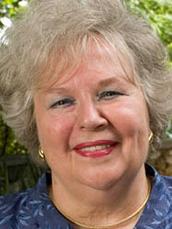 Judy Strickler ('60)
Donor, member of JMU Board of Visitors
There is a long Strickler family connection to JMU. After Judy graduated and earned a master's degree, she returned to JMU to teach and was a supervisor for the home management house, which is now Varner House. Judy and Charles "Chip" Strickler courted at Madison where he proposed to her in 1961. Together Judy and Chip, who died in 1999, served as tireless fans and advocates of JMU for decades. Today, she's continuing her family's tradition of giving back to JMU, most recently by making a gift to support the future Performing Arts Center. Judy sees the center as an important asset, not just for JMU, but also for the community. "The arts add a quality of life to one's experiences," she says. This donor and longtime Madison supporter has helped to create a number of changes to JMU and the surrounding community. She was instrumental in starting the Edith J. Carrier Arboretum and Botanical Gardens. And, as part of the Harrisonburg community, she brings a special perspective to her current role as a member of JMU's Board of Visitors, helping to cement the relationship between the university and the city. With ties to JMU that are both long and strong, Judy has been an influential contributor to the changing face of JMU.
"I think one of the best things about JMU is its ability to grow, to change and to adapt. JMU has graduated students who have made contributions worldwide. JMU adds to everyone's quality of life."