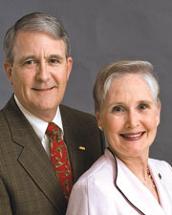 Jim and Julie Riley ('99P, '05P)
Scholarship donors
Shortly before Christmas Day 2006, Jim and Julie Riley penned a letter to their children: "How strange it feels to be excited about giving away money to a school that neither of us attended. What made us decide to do this?" the letter began. Although the decision might seem unusual to outsiders, it was a natural response for this family of JMU supporters. Two of the Rileys' three children attended JMU, and the Rileys served on the JMU Parents Council and were co-chairs in 2005. Jim currently serves as a Duke Club board member. The Rileys say their giving to JMU begins and ends with relationships. "We have a relationship with the people who make JMU what we consider it to be — an amazing place for a young person to get an education and become an involved citizen." The Rileys were particularly impressed by the Centennial Scholars Program, which promotes diversity on Madison's campus, especially when they saw the follow-up and support given to students who are Centennial Scholars. "We feel for JMU to continue to grow and achieve its full potential, it must represent society as a whole," Jim says. "This requires having students of all ethnic, and socioeconomic backgrounds to enrich the experience of all students." The Rileys decided they wanted to help individuals reach their full potential. Their $250,000 gift to Madison created the Riley Family Centennial Scholarship — the first privately funded Centennial Scholarship to promote diversity on campus.
"The inevitable questions that everyone must ask are, 'what will I have accomplished with my life and is there anything that I have done that will be remembered after my children and grandchildren are gone?'… Giving creates a way to perpetuate something that is meaningful not only to the giver but also to the recipients for years and years to come."