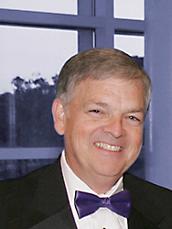 David Grimm ('74)
Business and community leader
David Grimm knows a thing or two about filling tummies and touching hearts. Co-owner to nine franchise Long John Silver's restaurants in Virginia's Tidewater area, David takes his business sense and combines it with his passion for helping community youth in order to change the world around him. "I am very interested in our young people having a safe and secure place they can grow," David says. "It's a serious challenge in today's society." This winning combination and his dedication first shined when he, along with other Long John Silver's employees, helped United Methodist Family Services deliver Christmas presents to foster families and children in need during the holidays. A born leader, David is now president of the UMFS Board of Visitors and serves on the Board of Directors for the Virginia Hospitality and Travel Association, JMU's Hospitality School Advisory Council, and is the proud 2005 winner of JMU's highest alumni honor, the Inez Graybeal Roop Distinguished Alumni Award. And his wife, Debbie, has found her own way to "Be the Change."
"I know the tremendous difference that UMFS makes for children and families every day, and it really inspires me and makes me proud to be involved with such a fine organization."