News
Community-Based Learning: WRTC Creates Opportunities for Community Engagement
---
JMU's vision is to be the national model for the engaged university. WRTC's unique community-based learning courses seek to fulfill this vision by creating partnerships between WRTC students and local organizations.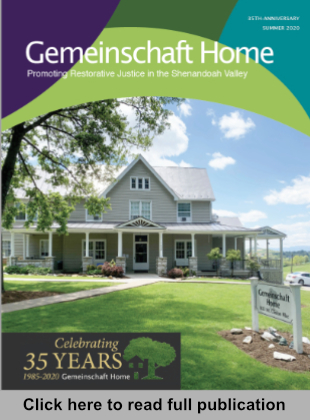 For the last two years, students enrolled in WRTC 484: Writing for Nonprofits with Dr. Elisabeth Gumnior have worked with Gemeinschaft Home, a transitional residential center for nonviolent offenders, to author articles for its annual magazine. Last spring semester's students helped the home mark an important milestone, its 35th anniversary. In a semester that was made difficult by the emerging pandemic and the shift to online teaching and learning - which also made direct contact with Gemeinschaft Home almost impossible - the students contributed to all but two of the articles in its 35th Anniversary magazine. 
"Without their work," says Gumnior, "it would not have been possible for Gemeinschaft Home to celebrate its 35th Anniversary with such an incredible publication." The magazine was distributed to more than 500 donors and supporters, as well as to members of the Harrisonburg/Rockingham County Court System, including judges and probation officers.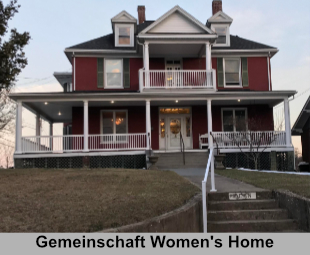 This semester, Writing for Nonprofits students will produce the content for the second annual summer magazine, which will focus on a new residential program for local women. Until now, Gemeinschaft Home has been unable to offer residential services to women. A new facility, located near downtown Harrisonburg, recently opened and will house four local women who are dealing with past or current justice system-related challenges. Students writing for the upcoming summer issue have carefully researched perspectives of women and the problems they face during and after their encounters with the justice system. The articles will cover both local and national examples of cases and initiatives. 
WRTC senior Leah Coffey, who worked on the 35th anniversary issue, believes the current students will gain a lot by continuing the work that her class did last spring. "I enjoyed the Writing for Nonprofits class, as well as working on the publication for Gemeinschaft Home," she states. "It was very rewarding to flip through the finished product. I liked knowing that my writing would help people."