News
A "Commitment to Fairness and Justice"
Remembering Whitten Maher
---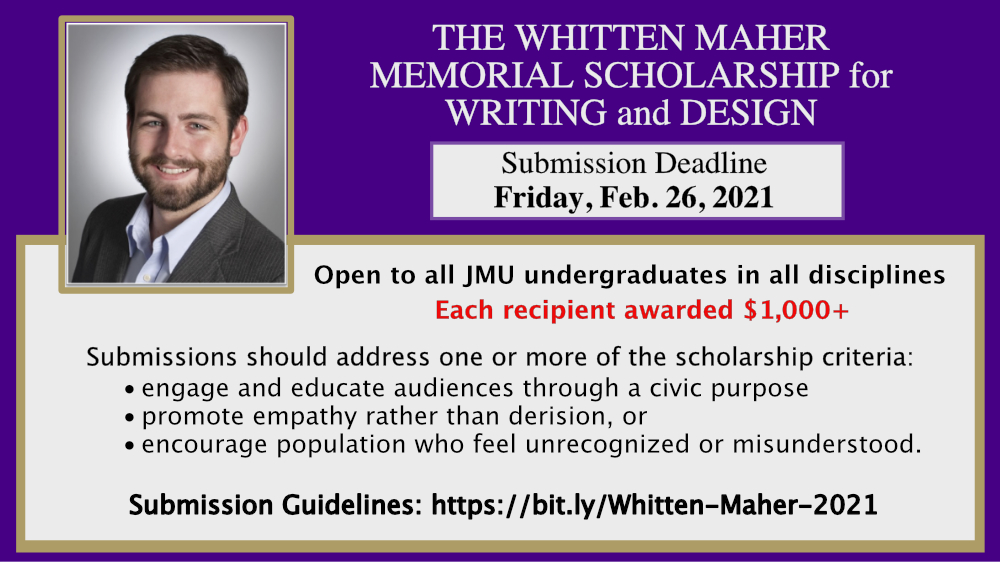 Through his work as Breeze contributing writer, "Gadfly" opinion columnist, Opinion Editor, and Design Editor, Whitten Maher left an indelible mark on the James Madison University community. Maher's columns not only explored the frighteningly fractious society taking shape around him; they also implored us to open ourselves to others' experiences, no matter how alien those experiences might seem. 
The Whitten Maher Memorial Scholarship was established to honor Maher's legacy by highlighting students whose works similarly encourage empathy. Last year's recipients emphasized why it's crucial to participate in and add to this exchange:
Lillie Jacob: "My choice to write 'Leslie Feinberg's Stone Butch Blues: Finding Myself in the Margins,' and to share it, has not been easy for me, but I want to provide visibility for those of us who struggle with sexual trauma and lesbians who struggle with gender. My hope is that this essay will say to anyone who has ever been sexually assaulted: you are not alone. To every kid who grew up feeling that they didn't fit into an acceptable category: you are not alone. To every marginalized person on this campus: you can and will find community. There are beautiful things ahead of you."
Davia Strider: "Whitten Maher started a movement for JMU students to stand up and speak out for what they believe in, and I am honored to be a part of this movement… I wrote 'I Am Here' to inspire and help others who may feel misunderstood and unrecognized in a world not built for people with disabilities."
An Advocate for Change
Especially after the bitter and contentious 2020 primaries and general election, Whitten Maher's words from his 2009 article "America the Rabid" ring true. In it, he underscored how modern political rhetoric chipped away at our already fragile democracy. He railed against right-wing pundits who disingenuously criticized President Obama's health care bill—not because they had different perspectives than him, but because their messaging stoked fear:  
"They're ramping up the stakes. It's not that we simply disagree. No, that would be too easy. There can't be compromise. No, the world would end. It's the best way to get people to pay attention and the best way to stifle any hope of reasoned give-and-take in the policy process. It's brinksmanship, really; it's crippling to whatever was left of political civility."
Through his writings, Maher did not advocate for the univocity of ideas—he welcomed and encouraged honest, genuine debate. Still, eleven years later, we appreciate anew how specious rhetoric poisons efforts to bring about positive change. 
Maher also felt it his duty to "spea[k] up in a sea of silence" for marginalized voices, especially those in the LGBTQ+ community. In his October 8, 2009, article titled "For You, Wherever You Are," Maher wrote, "No one can understand the isolation that comes with being closeted, and it's made worse by the feeling that you cannot talk about it with anyone." Representation matters, and he found power in writing about issues of sexuality because "we all need a voice, even if it's just a brief exclamation." 
Even though Maher wrote that he sometimes "felt like no one was listening," his presence and his passion impacted everyone with whom he interacted. As one of his professors wrote: 
"When Whitten wrote, he was able to voice ideas that humanized those who, for whatever reason, are not fully represented within that conversation. Likewise, he humanized those who expressed ideas with which he disagreed or that deeply offended him."
The Whitten Maher Memorial Scholarship
Whitten Maher encouraged building bridges, giving voice to the marginalized and oppressed, and creating dialogue rather than division. It was with these goals in mind that his parents, along with former WRTC faculty member Erin Lambert Hartman, established The Whitten Maher Memorial Scholarship after his death.
Over its eight-year history, the Whitten Maher Memorial Scholarship has enjoyed submissions from students across campus working in different disciplines, genres, and media. The scholarship encourages and recognizes academic and nonacademic writing and design that conveys the compassion, intensity, and reasoning reflected in Whitten Maher's work. It is open to all returning JMU undergraduates in all academic disciplines, and recipients are awarded at least $1,000. The 2021 submission deadline is February 26.
For submission guidelines, see the Whitten Maher Memorial Scholarship website. Featured there is a selection of Maher's Breeze columns in their original print format, along with remembrances from his JMU and Demos colleagues. And for a more extended journey through Maher's work, type "Whitten Maher" into The Breeze site's search bar.