News
WRTC Students Present Type 2 Diabetes Research at Conference on Community Writing
---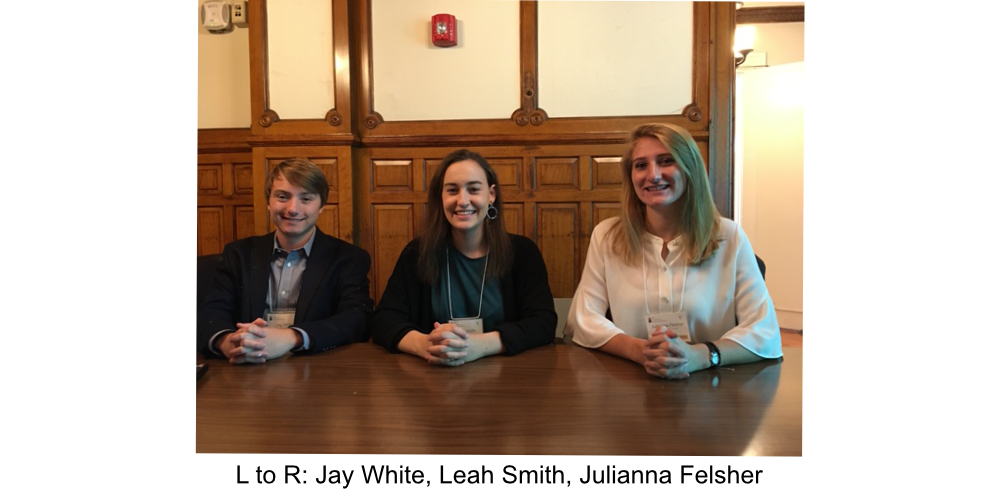 Students in Dr. Lori Beth De Hertogh's WRTC 458: Scientific and Medical Communication spent the semester collaborating on a research project investigating diabetes, stigma, and disease management with Sentara RMH diabetes educator Julie Pierantoni and WRTC faculty member Cynthia Martin. As part of their research, students interviewed individuals who live with Type 2 diabetes to learn about public perceptions of the disease and how those perceptions influence personal management of the disease. Three students enrolled in the course presented their findings at the 2019 Conference on Community Writing, hosted by Drexel University, The University of Pennsylvania, and Temple University in Philadelphia on Oct.19. Students Jay White, Leah Smith, and Julianna Felsher answer questions here about this exciting opportunity.
What is the CCW Conference?
The Conference on Community Writing is an event dedicated to bringing scholars and community activists together to share ideas and research dedicated to community-based projects. The theme of the conference this year was 'Doing the Work', which emphasized a grass-roots approach to community-based research and activism.
What does one do at a research conference?
As student presenters at this conference, we were on a panel with our professor Dr. De Hertogh, Cynthia Martin who was one of our faculty partners, and a researcher from University of Cincinnati who does research on improving follow-up care for patients who are diagnosed with diabetes during hospital stays for other illnesses.  During our presentation, we shared the research we conducted in our class on type 2 diabetes and how people with this condition in the Shenandoah Valley perceived stigma of their disease. We were also able to hear from our co-panelists about their research on the topic, which affirmed the work we did and gave us a perspective on how our work can contribute to research on the disease. The dialectic style used for conference presentations enabled us to collaborate in a group setting to determine best practices for disease care and management given the stigma those living with the diabetes may endure.
How did you benefit from presenting at this conference?
The group discussion that followed our presentations made us feel as though we were doing valuable work for the community of diabetics in Harrisonburg and not just for class at JMU. As student activists, we felt empowered and heard in our presentation; we were able to participate in a conversation about scholarship and research in the real world. At the same time, the academic setting of the conference gave us a safe place to voice our concerns and to discuss relevant issues regarding diabetes care in the Shenandoah Valley.  The biggest takeaway for us was learning how our work in class can bring about real action and realizing that our voices as students have true weight to them as well.  With type 2 diabetes rates in the Shenandoah region exceeding state-wide rates, the opportunity to share our Jresearch felt rewarding and truly productive.