News
What's That Sound?
---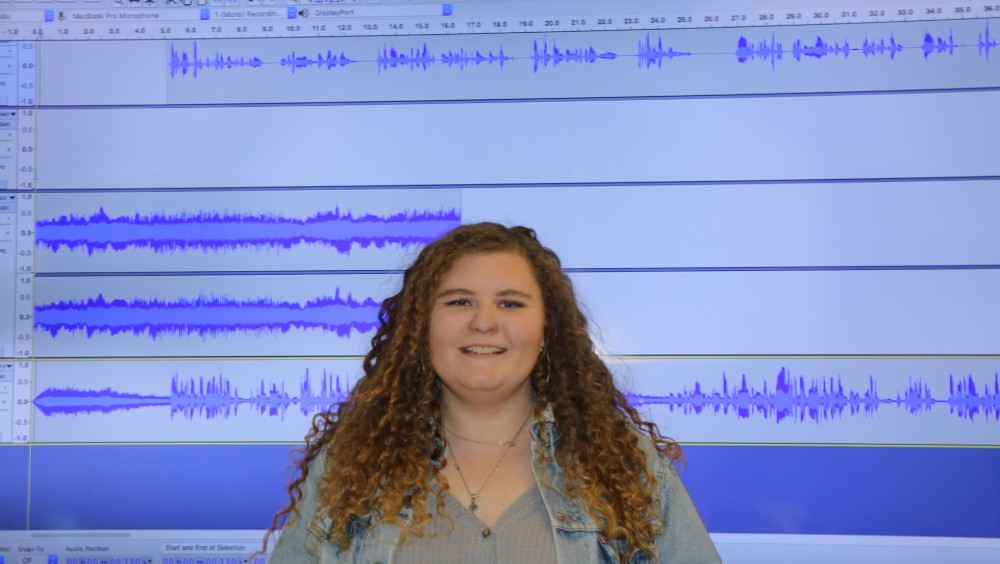 Before you get to the next sentence, take ten seconds to inventory the aural riches available to you.
As I write, I am getting so-called "white noise" (probably the Harrison HVAC) and my own tap-tap-tapping on the keypad of my desktop machine. Oh, and my breathing, which seems a little irregular now that I attend to it. Someone is walking down the hall. Now a door. Then a shout from somewhere on The Quad!
I blame Professor Lunsford for this.
Hannah Kaufman, a student in Lunsford's WRTC 434, "Advanced Popular Writing: Soundwriting" course says that she's never been more challenged as a writer.
"It's not only about writing," she says, "but about incorporating sounds, using different software, talking, finding things on websites. It's challenging to create these works—they are not even exactly writings, more like pieces."
Lunsford explains the ideas behind the course this way:
"This class will help writers attune their ways of experiencing environments by listening to them, hearing them, traveling within the vibrations that create sound along everyday surfaces. Think about the music you like. Are there certain songs you rhetorically listen to? In other words, are there purposes for those songs for you: relaxing, working out, driving? Are there sounds you cannot stand to listen to: types of music, the pitch of someone's voice, that drip in your kitchen sink?"
The richness of our aural environment—or the aural pollution, in many cases—affects us as writers, readers, and people navigating the daily obstacle course of life.
It's just another way that writing, rhetoric, and technical communication are tied together in WRTC through the creative work of our faculty.