News
WRTC Professors Receive Prestigious University Awards
---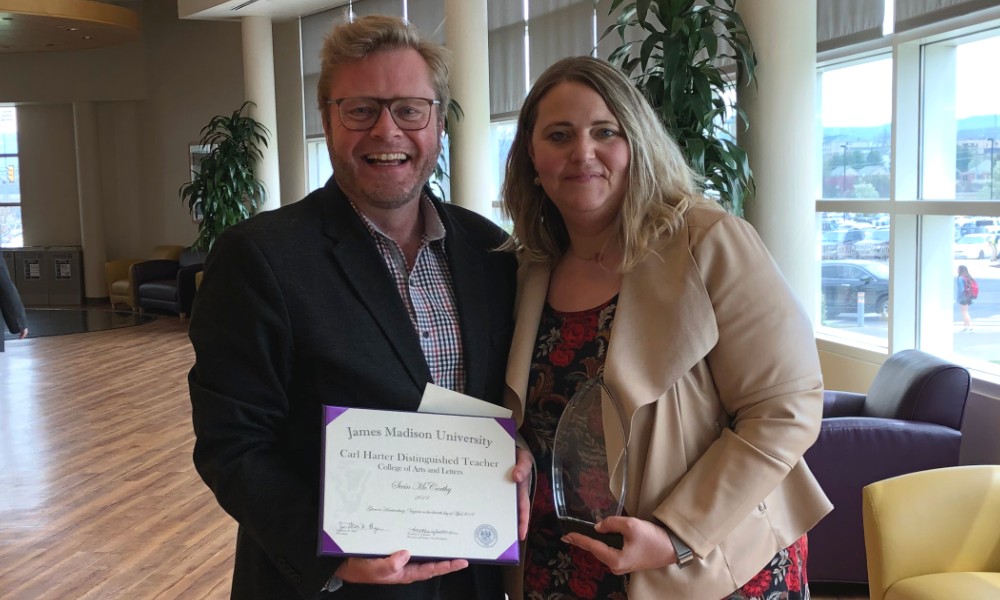 Two talented and dedicated WRTC professors received prestigious JMU awards at the Academic Affairs Luncheon on April 11, 2019.
Dr. Sean McCarthy received the 2018-19 Carl Harter Distinguished Teacher Award. The Harter Award recognizes an outstanding faculty member in the College of Arts and Letters (CAL), a college known for its emphasis on teaching. This award is very competitive; in addition to submitting extensive supporting materials for the first round of vetting, the finalists are observed in the classroom by members of the Faculty Assistance Committee, and then formally interviewed by the full committee. Dr. McCarthy  joined the faculty in WRTC in 2012 and his influence can be seen throughout the university and beyond, including teaching abroad, working with JMU X-Labs, and the Digital Humanities. The Harter honor includes an invitation to give the CAL 2019 commencement address on the Quad.
Dr. Jen Almjeld received the 2018-19 Provost's Award for Excellence in Outreach and Engagement, a University-wide distinction. The Provost's Award for Excellence in Outreach and Engagement is given to faculty members who have made a sustained commitment to working with the community in developing mutually beneficial and reciprocal partnerships. The award recognizes the scope and impact of the partnership and its impact on both the university and the community. Since joining WRTC in 2013, Dr. Almjeld has worked tirelessly to build relationships with community partners and connect her students' learning to engaged practice. In addition to her inspirational work with undergraduate students and her mentorship of young women in the local community, Dr. Almjeld is also the WRTC Director of Graduate Studies.