News
Mark Your Calendars! The College of Arts and Letters Career Conference is happening after Spring Break!
Don't miss this opportunity to build your job-seeking toolkit!
---
We all know the value of a liberal arts degree in creating a more enlightened citizenry and creative workforce. Indeed, many leading companies such as Google consistently argue that they prefer to hire humanities-trained thinkers over graduates with "hard skills" such as computer coding.
However, it can often be daunting for CAL students new to the job market. Their experience doesn't always map easily onto the descriptions in job postings. Students may not even see jobs for which they might be a perfect fit, simply because they are not looking in the right places.
That's why the College of Arts and Letters Career Conference (CALCC) is such an important event for CAL students to attend. Now in its second year, the two-day conference showcases panels that help our graduates to sell their liberal arts degree, and provides useful workshops on a range of topics such as interviewing skills and how to fashion compelling resumés and cover letters. What's more, several CAL alumni will be attending the conference to provide current students tips on how to navigate their careers beyond JMU. (Check here to find out the full schedule for the conference.)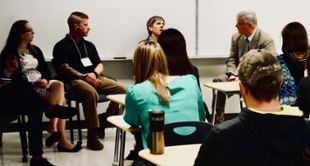 Sandra Purington, Senior Administrative Assistant in WRTC and one of the organizers of the CALCC, is excited about this year's event: "The 2017 conference was so successful and positive, there are students and alumni who are still in touch with each other and we are looking forward to that happening again." Indeed, this conference looks to be even better than last year. As Sandra explains, "Once again, we have over 50 alums who are attending. Students can choose between 12 different panels on Friday, and on Saturday, there will be hands-on workshops to assist students with their resumes, networking and interviewing skills and how to take advantage of internship and volunteer opportunities."
Alongside Sandra's hard work organizing the main event, WRTC school director Dr. Traci Zimmerman will be delivering the keynote speech. "I was honored to be asked to give the keynote for this conference," Traci says, "and to represent the vital role that the College of Arts and Letters plays, not only on this campus but on the global stage." Traci is particularly delighted to talk at this conference given her long relationship with the College of Arts and Letters. "I currently serve the College in my role as WRTC Director, but my connections run even deeper," Traci explains.  "I am also a proud alumna of this College, having earned my BA and MA degrees here. What I hope to share is a 360-degree view of the value of a CAL education and its powerful, enduring presence."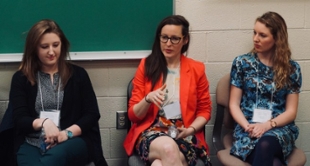 The CALCC takes place on Friday & Saturday, March 29 & 30, 2019. There is no registration fee but registration is required. Register for the conference here.
This is clearly an important event for WRTC majors and minors. Make sure you mark your calendars to attend some or all of this excellent professionalization opportunity!