News
2019 FemRhet: Redefining Feminist Activism at JMU and Beyond
---
November might seem ages away for many of us, but for the small committee of WRTC faculty and graduate students working to bring the 2019 biennial Feminisms and Rhetorics conference to JMU, November is just around the corner. And that's not a lot of time to plan a conference that is, well, kind of a big deal, not just in its size—over 400 attendees and presenters are expected—but also in its focus on the ways discourse invites some people in while keeping others out.
Feminisms and Rhetorics, known more commonly as FemRhet, is an academic conference that focuses on ways rhetorical actions and actors work for social change. The conference, sponsored by the Coalition of Women Scholars in the History of Rhetoric and Composition, was created in 1997 and has since given scholars and activists opportunities to merge their scholarship with activist approaches to create change for marginalized peoples in our universities and communities.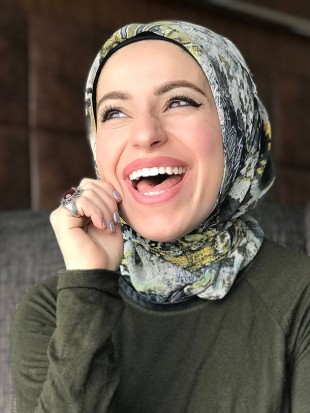 Mona Haydar, rapper and feminist activist,
will be the keynote speaker for the 2019
FemRhet conference hosted by WRTC
This year's theme centers around DIY feminist activism—grassroots advocacy work that prioritizes inclusion and diversity. DIY feminist activism is inherently intersectional; it celebrates overlapping identities and the power of individuals to spearhead innovative, creative solutions to issues and problems that are often marginalized by institutional powers. DIY feminist activism can be seen in everyday acts, such as WRTC alumna Magi Linscott's successful campaign last year to install tampon dispensers across campus, Warren Middle School teachers' messages of body positivity painted on stall doors in student restrooms, or the music of Mona Haydar, rapper, activist and artist who will serve as the conference Keynote Speaker. Haydar, a Syrian American, grew up in Flint, Michigan where she developed a sound and musical style deeply rooted in her intersectional identity. The video for her first single "Hijabi (Wrap My Hijab)" was released in 2017 and featured Haydar, eight months' pregnant with her second son, surrounded by an intersectional group of dynamic women calling out racism and colorism. The track went viral, and Billboard named it one of the top 25 feminist anthems of all time.
In the spirit of Haydar and DIY feminist activism, the conference invites activists and scholars to perform, recognize, reframe, and theorize the work that has been done and to imagine, organize, and manifest the work that still needs to be done. According the conference chair and WRTC faculty member Dr. Jen Almjeld, "While some presenters will focus mainly on theoretical discussions of power and access, several are interested in activist work and interventions that seek to change the contexts in which we use rhetoric. The interrogation of both texts and identities sets this conference apart from other rhetoric conferences." Presentation formats will range from individual and panel presentations to how-to workshops to, what Almjeld terms "interactive installations" which demonstrate DIY activism by showcasing multimodal/digital/sonic/embodied work(s) that invite audience engagement. The goal of the conference is simple: "We're hoping people leave the conference with actionable ideas about how to take rhetorically informed feminist action in their home communities," reflects Almjeld.
Though the conference is not until November 13-16, students can get involved sooner by enrolling in WRTC/WGS/SCOM 420: Feminist Rhetorics in the 2019 fall term. Students enrolled in the course will not only get to hear a variety of amazing feminist rhetoricians speak, but will also do the work to archive the conference via social media and other digital platforms. Beyond the course opportunity, students can get involved during the conference by volunteering to serve as ambassadors giving directions, registering conference attendees, posting to social media about the event, and much, much more. Anyone interested in gaining some great experience in conference planning - and earning a good resume line – can contact Dr. Almjeld at almjeljm@jmu.edu.
To learn more about the conference, view the CFP, or submit a proposal, visit http://femrhet2019.cwshrc.org/. The deadline for submissions is February 15, 2019 and early registration for the conference begins July 1.