News
Mark Your Calendars: Documentary "The Bleeding Edge" Screening at JMU
---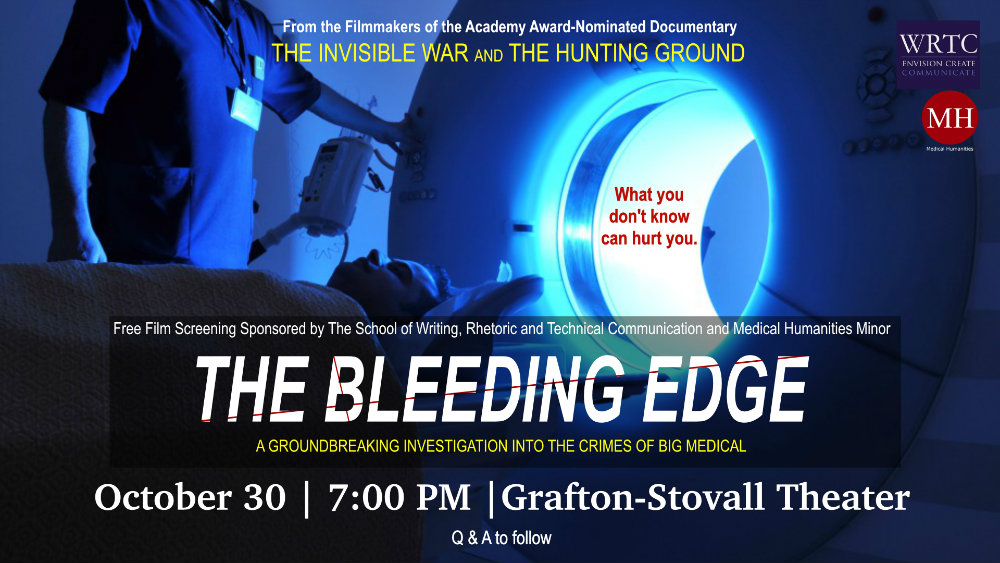 WRTC in partnership with the Medical Humanities minor will host a screening of the new documentary The Bleeding Edge in the Grafton-Stovall Theater on October 30 at 7:00 p.m. Written and directed by Kirk Dick and Amy Ziering, The Bleeding Edge investigates "the $400 billion medical device industry, examining lax regulations, corporate cover-ups, and profit-driven incentives that put patients at risk daily."
The documentary has been receiving many excellent reviews, with Variety calling it a "disturbingly powerful and important documentary."
This isn't the first time that WRTC has brought the work of this talented documentary team to JMU audiences. When she was teaching "Feminisms and Rhetorics" a few years ago, Dr. Cathryn Molloy partnered with the directors to show a screening of their documentary The Hunting Ground, which investigates sexual violence on college campuses. 
There will be a questions and answers session following the screening of The Bleeding Edge on October 30. Dr. Molloy hopes that the documentary will spark generative conversation among the audience. "This documentary is very much a critique of the medical industry," says Dr. Molloy. "It makes a very powerful argument that is also quite polemic. I'm hoping that the screening and the conversation that follows will show the value of the directors' activist agenda as well as providing us with an opportunity to think about and assess the validity of their claims."
This is obviously a must-see for students in classes with a Medical Humanities focus, as well as for anyone who is interested in the intersections between healthcare and big business.