News
WRTC Houses New Cross Disciplinary Minor in Disability Studies
---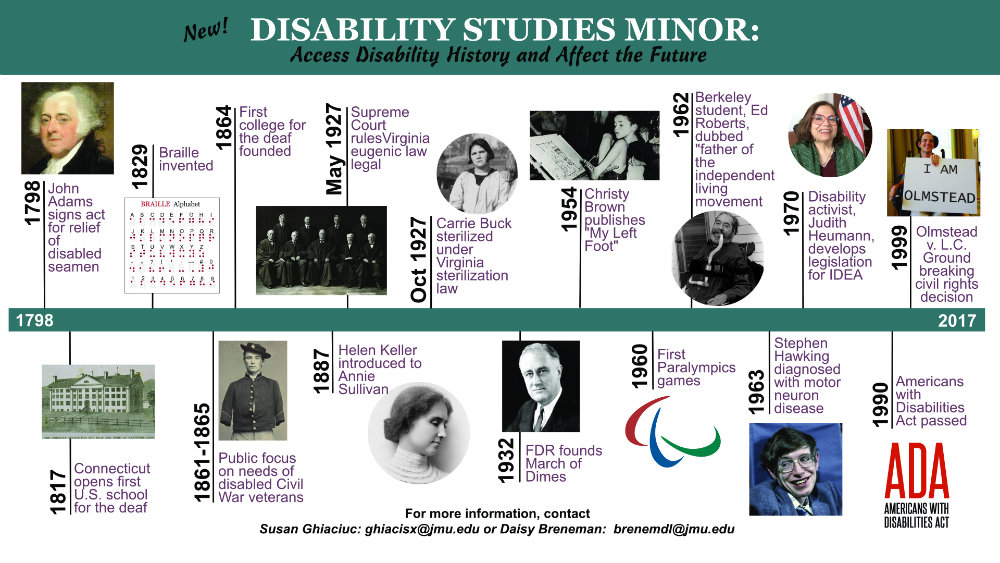 Beginning in Fall 2017, JMU students will have the opportunity to earn the Minor in Disability Studies at JMU. Sparked by student interest, WRTC professor Dr. Susan Ghiaciuc spearheaded the development of the minor, teaming up with co-coordinator Daisy Breneman (JUST) and a committee of colleagues: Dr. Josh Pate (SRM), Dr. Kerry Dobransky (SOCI), Matt Trybus (Learning Centers, Peer Assisted Study Session Coordinator), and Valerie Schoolcraft (Office of Disability Services). Working with Dr. A.J. Morey, Associate Vice Provost of Cross Disciplinary Studies and Diversity Engagement, they developed a program of study that reflects the interdisciplinary nature that has been an essential quality of Disability Studies since its beginnings as a academic discipline. Although the minor is housed in WRTC, it also includes courses from Communications Studies, History, Justice Studies, Kinesiology, Sociology and Anthropology, Sports and Recreation Management, and Theatre and Dance. 
The Minor in Disability Studies engages students in an examination of the many ways disability is defined and constructed.

Students will build knowledge of the political, rhetorical, social, educational, historical, legal, and medical frameworks of disability through both classroom and experiential study in courses drawn from several disciplines.

The 19-hour Minor in Disability Studies is open to all undergraduate students at JMU. The one-credit introductory, online course can be taken the same semester with core courses. 
Courses
Required (1 credit)
     DST 100 - Introduction to Disability Studies
Core (choose one) (3 credits)
     JUST 385 - Disability and Justice
     KIN 429 - Special Topics in Adapted Physical Education 
     WRTC 430/SCOM 343 - Contemporary Rhetorical Theory and Practice: Disability Rhetoric
     SOCI 335 - Disability and Society
     SOCI 375 - Medical Sociology
Electives (choose five) (15 credits)
     ANTH 360 - Medical Anthropology
     ANTH 395 - Special Topics in Anthropology: Sex and the Social: The Cultural Politics of Reproduction
     DANC 325 - Dance in Community
     HIST 306 - A History of the Body in the West
     HIST 476 - History of Disability in Postwar Europe, 1945-1991
     JUST 221 - Social Justice Theories
     SCOM 370 - Introduction to Health Communication
     SOCI 214 - Social Deviance
     SOCI 385 - Madness and Society: The Sociology of Mental Health and Illness
     SRM 242 - Sociology and Psychology of Sport and Recreation Management
     SRM 436 - Facilities and Events in Sport and Recreation
Total credits - 19