News
WRTC Faculty Present at Inaugural CCCCs Mid-Atlantic Regional Conference
---
Four WRTC faculty were selected to present at the first-ever Mid-Atlantic Regional CCCCs conference held at Virginia Commonwealth University in June.  The conference theme was Composing Worlds with Words and featured presentations that inspired new conversations about writers and writing.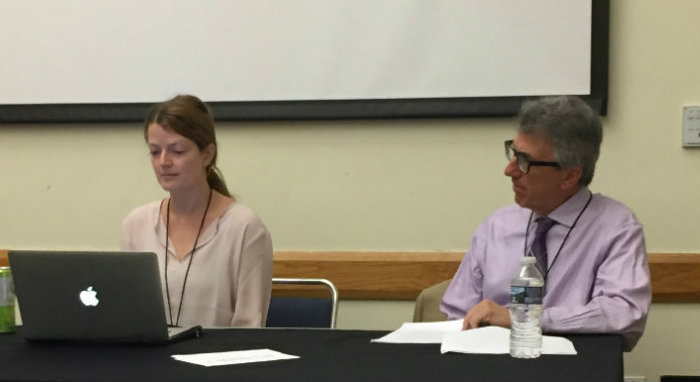 Dr. Cathryn Molloy and Dr. Jim Zimmerman gave a presentation titled In Search of Best Practices for Writing as Healing: Quantitative Research, Qualitative Research and Experiments for the Future.  Their presentation was grounded in collaborative, mixed methods research exploring the state of writing as healing pedagogy in order to develop guidelines for best practices in the college classroom.  Thus far, their results have indicated that written emotional disclosure prompts may do the most good when they make curricular goals clear and have a future-orientation so that students can learn to use writing as a safe and productive metacognitive space.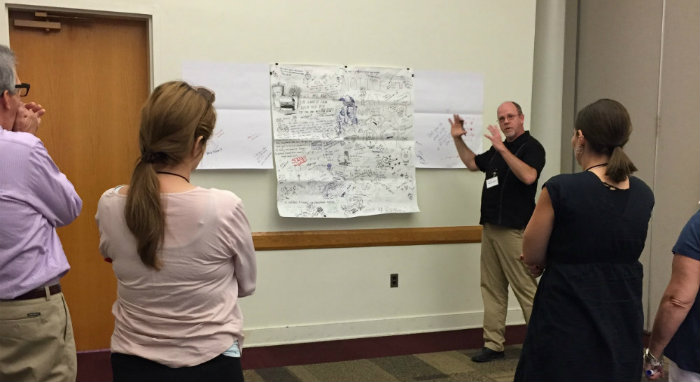 Dr. Scott Lunsford shared his work on public marginalia in a multimodal and interactive presentation titled "Hi Professor Lunsford:" Creating a Space for Public Marginalia.  His presentation shared the results of a study conducted to explore how WRTC students engage each other through "sanctioned" graffiti (called public marginalia) in the hallways of the WRTC program. (In this study, blank sheets of paper were hung in the hallways to encourage students to engage in anonymous, unregulated conversation with each other.)  Scott modeled this practice in his session, encouraging participants to create their own marginalia and, simultaneously, to add to the conversation about it.
Dr. Lori Beth De Hertogh (not pictured) conducted a workshop on Assessing Technological Literacies in Digital Compositions in which she examined the ways educators from a variety of scholarly and pedagogical backgrounds can assess technological literacies (i.e., the ability to use tools and technologies to design, produce, manage, and distribute multimedia content) associated with digital compositions. Participants left the session with practical, classroom-based activities for assessing digital projects.