WRTC
WRTC 456 "Writing in the Community" Takes to the Air
---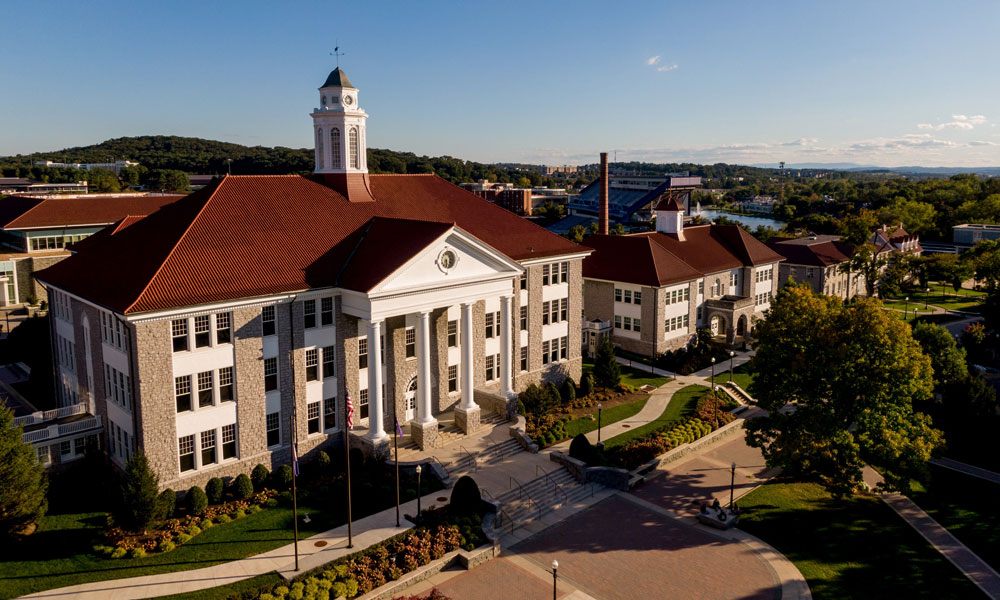 By Lindsey Campbell

Meghan Raphael and Erin O'Brien 

What happens when four professors, a team of inventor/engineers, and students from seven different majors are given six brand new drones, a makerspace equipped with 3D printers and virtual reality software, and the task of using drone technology to solve global problems? 
The result of this massive collaboration is the JMU Drone Project, which WRTC students in the Fall 2015 section of WRTC 486 "Writing in the Community" are documenting through WordPress and a variety of other media. The project is sponsored by 4-VA, an organization that promotes innovation and collaboration between four major universities in Virginia, and hosted in JMU 4-VA's X-Labs facility in Lakeview Hall.
As a concept, the goal of the JMU Drone Project extends far beyond the classroom: we hope to provide viable prototype solutions to a variety of issues that can benefit from the drone technology we are fortunate to work with, as the drones were built by JMU students in Spring 2015. Whether it's mapping riverbeds in order to relocate endangered freshwater mussel populations, detecting and disarming landmines in war-torn Syria, or creating 3D models of historic buildings in downtown Harrisonburg, the global scope of this project highlights not only the exciting opportunities for JMU students but the university mission of creating globally-engaged citizens.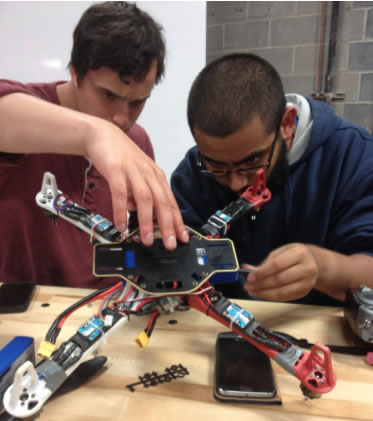 Jeffrey Small and Premal Patel
The goal of the class is to design and build fully functional drone prototypes. These prototypes will be additions to the drones that perform different tasks, like dropping small objects to detonate a landmine or carrying small cameras or containers of medicine. The students are creating interactive documentation of the entire process and developing a showcase event to present the final product. This obviously involves a fair amount of design thinking, tool-wielding, and media writing skills, making the background knowledge that each major brings to the table not just valuable, but absolutely essential to the success of the project.
We invite anyone who is interested in learning more about the development of this project to browse our website, which is updated weekly as the project progresses. We also cordially invite those interested in seeing the final products at our showcase event on December 9, details of which will be following soon!