News
Judy Strickler ('60) receives 2023 Leslie Gilliam ('82) Spirit of Philanthropy Award
Honor reflects a lifetime of leadership and support
---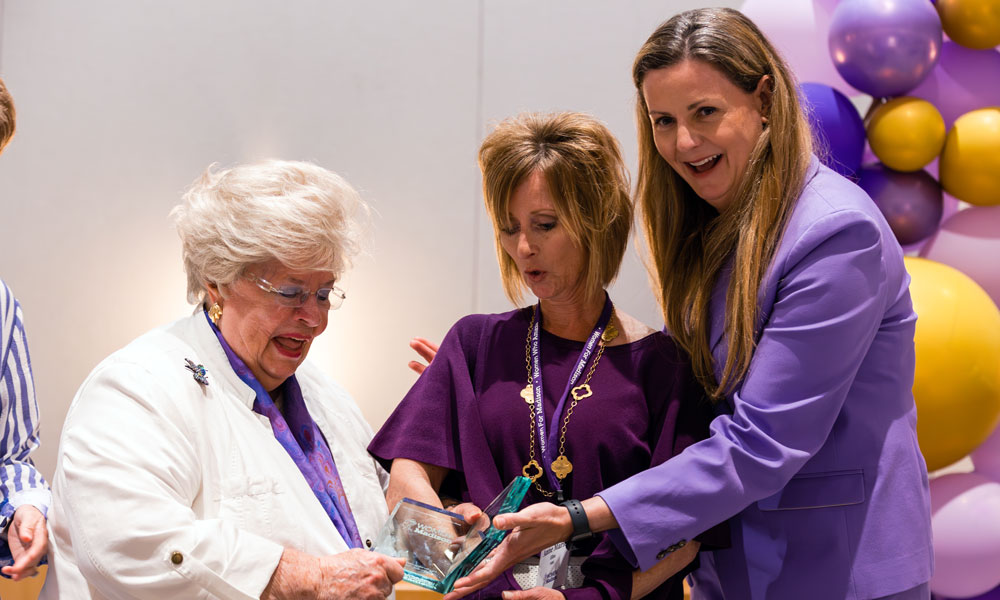 At the 2023 Women Who Madison Amaze Summit, JMU celebrated the indomitable spirit of women's philanthropy embodied by Judith Shreckhise Strickler ('60). Alongside her late husband Charles, Judy's contributions to the university community, in terms of financial support and personal dedication, exemplify the true essence of giving back. The Strickler family legacy has been building for decades and touches many areas of campus including athletics, the arboretum, arts and business.
A philanthropic green thumb
Judy's love for gardening, plants and landscape design led her to play a pivotal role in the establishment of an arboretum on campus. When approached by former JMU President Ronald E. Carrier and biology professor Norlyn Bodkin, she eagerly embraced the opportunity. Alongside her husband, she funded the original iron gates and inspired others to invest in this green refuge of peace and beauty.
A love for town, gown
As part of the family business, Rocco Enterprises, Judy hosted many foreign and domestic agricultural officials and customers, helping the poultry company grow into one of the Valley's largest employers. She helped orchestrate the longstanding Rocco Forum speaker series, giving both students and community members access to inspiring business leaders.
During JMU's Centennial Campaign, Judy made a lead gift to the Forbes Center for the Performing Arts, saying she wanted JMU's exceptional theater and dance productions to become more accessible to all Valley residents.
JMU's No. 1 Fan
Now known as one of the Dukes' most avid supporters, Judy played a key role in evaluating the possibility of adding a football team to the university in 1972, and her support continues with contributions to various sports facilities and teams.
Judy was a founding member of Women for Madison more than 10 years ago. She is also an Amethyst Circle Founder, a leadership investor in WFM's scholarship program.
With gratitude and admiration, Women for Madison members congratulated Judy on receiving the Leslie F. Gilliam ('82) Spirit of Philanthropy Award, recognizing a lifetime devoted to making the Valley and JMU a better place for all.
Watch Judy's award video: 2023 Spirit of Philanthropy