Women For Madison
Women for Madison athletics webinar goes in win column
---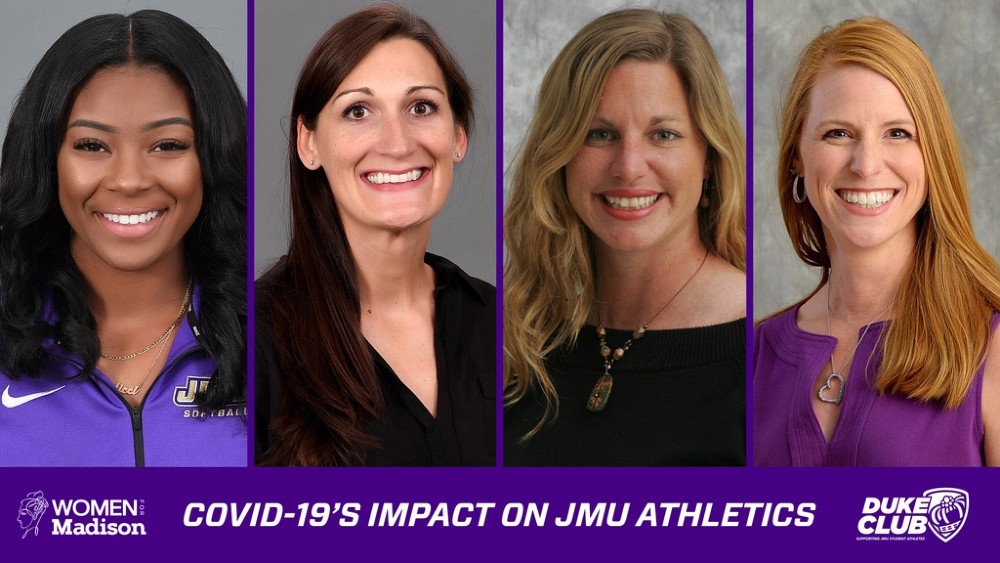 SUMMARY: Our first installment in Women for Madison's new webinar series featured JMU Athletics and focused on the impact of COVID-19.
---
More than 265 viewers who tuned in for Women for Madison's lunchtime webinar on May 26 learned that practice, recruiting and playing were essentially on hold for the 2020 spring season due to the effects of COVID-19 on JMU Athletics.
JMU First Lady Mary Ann Alger moderated the virtual panel of coaches, a student-athlete and senior administrator who shared personal experiences and university updates.
News in March of the cancelled season hit athletes hard.
---
---
"We were down in Florida practicing before a tournament," explained softball player Odicci Alexander ('21). "After practice they huddled us up and said, 'We are going home, and when you get back to Harrisonburg you have to go… back with your family.' We were devastated," the pitcher said, "because we didn't know what was happening or if the seniors were going to get to come back. It was tough."
The NCAA is granting senior athletes another year of eligibility so they don't have to miss their senior season.
While many of these athletes have graduated, taken jobs and moved on with their lives as alumni, explained senior woman administrator Jennifer Phillips, JMU must come up with approximately $300,000 in additional scholarship funds for the student-athletes who want to play out their senior year in 2021. Gifts to the Proud and True Fund help JMU support these athletes.
Meanwhile, said volleyball coach Lauren Steinbrecher, "NCAA rules restrict the number of contact hours coaches have with their athletes when they are not playing. So student-athletes are doing their best to recreate their training regimen and environment on their own from home."
Several student-athletes live together in Harrisonburg and have conducted themselves as a family unit as they coped with social distancing and COVID-19 stay-at-home orders, Phillips added.
"For our inaugural webinar, JMU athletics was the perfect kickstart."
— Cannie Campbell ('95, '20M)
Many viewers were touched by lacrosse coach Shelley Klaes-Bawcome's "personal and very frightening and frustrating story of her experience with this dreadful virus," including being sent home from a doctor's visit without a clear-cut diagnosis and dealing with the fear and uncertainty of possible COVID-19 symptoms.
Audience members expressed enthusiasm about "being able to hear about the experiences of the coaches and student-athlete on a human level was meaningful. Their stories about dealing with COVID-19 and how it has impacted each of them both on a personal level and within their sports program was really interesting."
The athletics panel was Women for Madison's first in its new webinar series, which is intended to encourage personal and professional development and JMU engagement.
"For our inaugural webinar, JMU athletics was the perfect kickstart," said Cannie Campbell, Constituent Engagement associate vice president and Women for Madison leader.
"Our fans care deeply about our athletes and our sports programs, and they are craving information and answers in the wake of COVID-19. This was the right topic at the right time. We were blown away by the interest and participation. We are definitely going to do more of these."
Here is what attendees had to say about what they felt were the most meaningful aspects of the webinar:
"The entire webinar was meaningful. Mary Ann did an excellent job moderating, and all the participants' responses were informative and genuine. I also appreciated the brief description of WFM and how to get involved. Mary Ann clearly stated that any donation is accepted and that WFM is not a clique but rather a place for women to learn and grow from one another as well as stay connected to JMU."
"This was a really cool way to connect to JMU and learn more about athletics than we ever really have."
"To me, as an alumna, I just felt a sense of pride that we have such strong female leadership! The first lady was a great moderator, and it was great to hear more from Shelley and Jen and Lauren and of course Odicci. Overall it was fantastic!"
"I was hesitant to attend with all of the other webinars and Zoom meetings I have lately, but I'm glad I did. It made me feel more connected to the school and gave me insight I would not have had otherwise."
Find more information about Women for Madison and links to social media at j.mu/wfm.