Nearly 300 Writing Center Specialists Attend JMU-Hosted Regional Conference
News
---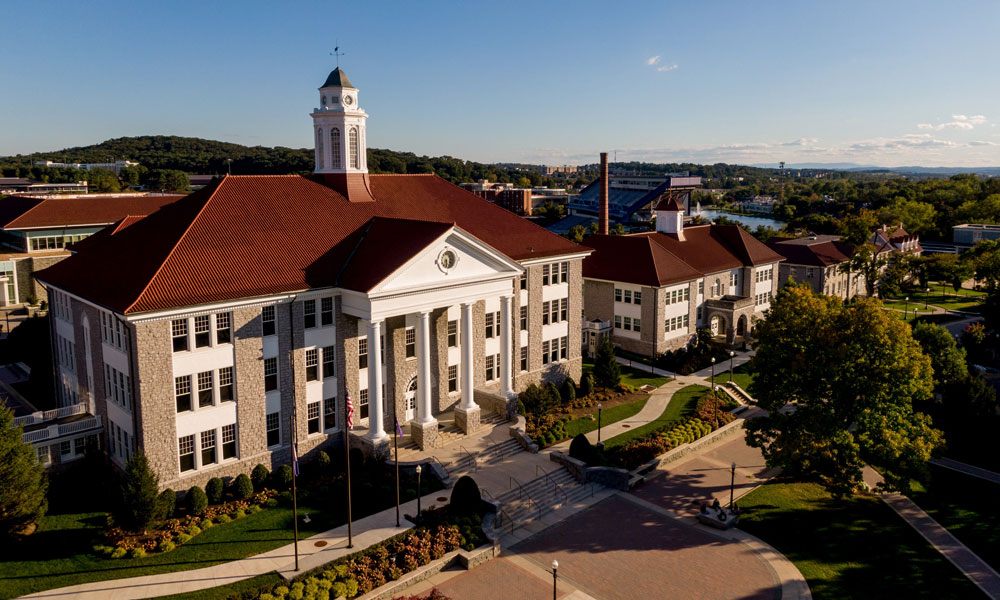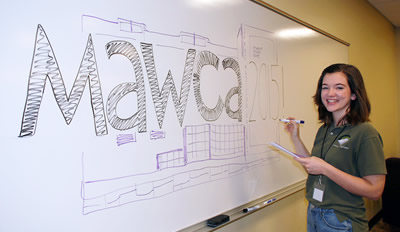 UWC tutor Maya Chandler prepares a whiteboard mural in JMU's new University Writing Center.
Check out the MAWCA 2015 Photo Gallery
Last spring, JMU's University Writing Center had the privilege of hosting the 2015 conference of the Mid-Atlantic Writing Center Association (MAWCA). As a regional offshoot of the International Writing Centers Association, MAWCA is a collection of East Coast writing center specialists that collaborate among normally divided writing centers to exchange ideas. One of the largest conferences of its kind in the nation, MAWCA is a wonderful opportunity for peer tutors, writing center faculty, and other interested parties to come together and discuss a shared theme; this year's was "Sharing Spaces." On the weekend of April 10th – 11th, JMU's Student Success Center (SSC) opened its doors to representatives of various college and high school writing centers for the event.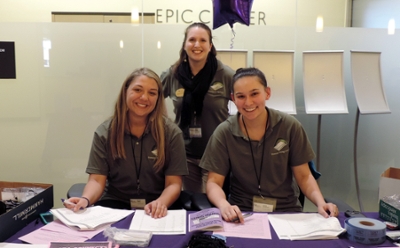 Tutors Melanie Farrell, Carolyn Schubert, and Juliana Garabedian staff the MAWCA 2015 welcome desk
Preparation
JMU's University Writing Center (UWC) had been in talks to host the MAWCA conference for two years. "Originally, we were going to submit a proposal to host the 2014 conference," said UWC Associate Director Jared Featherstone, "but we decided it would be better to propose hosting the conference in our new space." With the 2015 move to the first floor of the spacious SSC building, the time was finally right.
After JMU was awarded host duties for the conference, UWC tutors, faculty, and staff worked for months to plan the event. A JMU Writing Center team of 30 workers was assembled to design the conference website, coordinate room assignments and meals, staff registration desks, resolve technical and logistical issues, and guide people around the conference, campus, and Harrisonburg area. Review teams of UWC tutors and faculty carefully read and organized the proposal submissions to develop the program. In keeping with writing center philosophy, the UWC reviewers collaborated closely with prospective presenters as they refined their thinking for the diverse conference audience.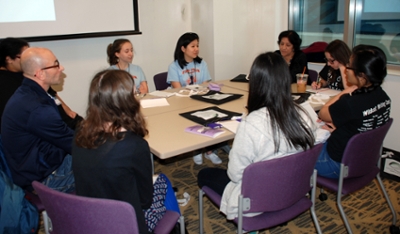 High school and college writing center tutors at a Friday evening workshop breakout session
The Conference
On Friday from 3:00 p.m. to 8:00 p.m. and Saturday from 7:00 a.m. to 5:00 p.m., the first, second, third, and fourth floors of the Student Success Center were bustling with writing center scholars, tutors, faculty, and students from high schools and colleges across the East Coast. Whether they were checking out the posters of research on the first floor lobby, taking a moment to get a bite to eat on the second floor, or attending the 60 panels, presentations, and workshops, attendees had access to wall-to-wall conversation and scholarship with writing center professionals.
More than 240 people from 36 institutions and nine states made the trip to JMU for the conference, and for some attendees it was quite a long journey. Students and faculty from the University of Wisconsin, for instance, traveled 857 miles to be a part of the conference. Of the attendees, 60% were students and 40% were faculty, reflecting the commitment to student engagement that characterizes writing center work and the UWC's vision.
Conference goers took part in panels and presentations on a wide range of topics. Representatives from several writing centers were presenting their original research and discussing tutoring strategies and theory, all centered on the conference's theme of "Sharing Spaces."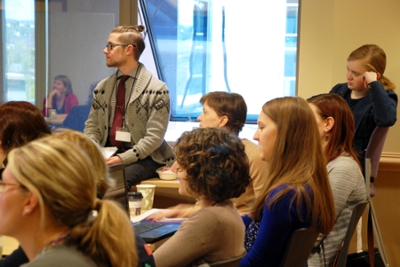 MAWCA conference attendees at a Saturday panel
Many of JMU's UWC faculty members delivered workshops and presentations. Laura Schubert, the UWC's Peer Education Coordinator, was part of a multi-university workshop titled "Writing Center in the Learning Commons: Opportunities, Pitfalls, and Administrative Strategies" with presenters from Old Dominion University and Shippensburg University. Kevin Jefferson and Learning Centers Director Kurt Schick led a workshop on writing center assessment, while faculty members such as Jared Featherstone, Matt Trybus, Eric LaFreniere, Lucy Green, and Carolyn Schubert represented JMU in workshops and panels.
A number of JMU students also shared their insights during MAWCA: Caroline Prendergast and Erik Simmons blended their psychology and tutoring expertise in a panel called, "Sharing of Academic Disciplines in the Writing Center," Dakota Sharp and Taylor O'Donnell led a panel with two JMU faculty members on the value of writing fellows in bridging disciplinary and pedagogical gaps in core science and math classes, and Brooke Covington hosted a presentation on the importance of translingual practice in tutoring international students.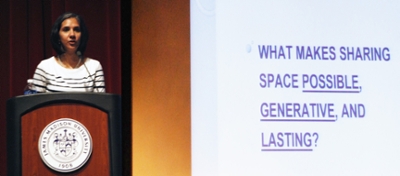 Nathalie Singh-Corcoran delivers the keynote

On Saturday, Nathalie Singh-Corcoran, clinical associate professor and Writing Studio Coordinator at West Virginia University, delivered a keynote speech in Grafton-Stovall Theater bringing her expertise and experience to the conference's theme. Afterwards, attendees returned to the Student Success Center for more panels and presentations before an evening tour of JMU's brand new writing center space.
Impact
UWC faculty and staff hope that The MAWCA conference will have a lasting impact on visiting students and faculty members as well as JMU's own. "We grew as a UWC team in hosting the MAWCA conference," said long-time faculty tutor Kevin Jefferson, "We showed off our collegiality, teamwork, and expertise as much as we showed off our new space in the Student Success Center. Everyone contributed in visible ways--I loved seeing all of the green UWC uniforms during the conference--and in the truly monumental behind-the-scenes effort involved in making it all look so seamless."
Before the conference, Featherstone expressed a desire for JMU to involve itself more in the writing center community. He said, "I think hosting this conference will elevate the visibility of the JMU Writing Center, which may mean that we'll be involved in more collaborations with other centers." Featherstone and his staff are thrilled to have made a contribution to the development of writing centers in the region.
-Rudy Barrett, Graduate Assistant
---