A new space to unwind in The Union
News
---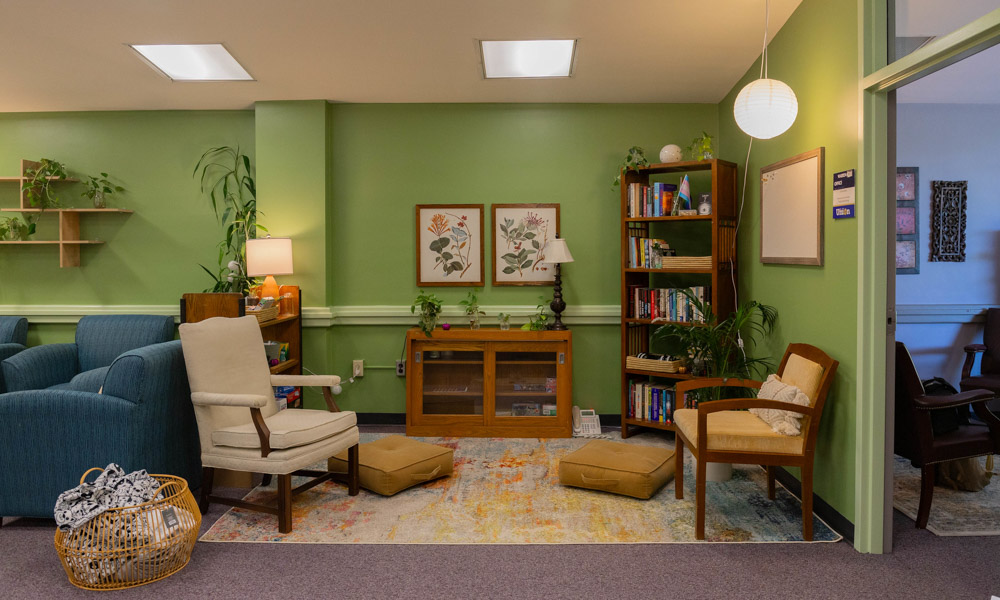 Looking for somewhere to read a book, finish some homework or even have a quiet conversation? Head over to The Living Room, a new space in The Union, Warren 420.  
"The initial push for this space originated with Kristina [Blyer]'s vision for a space on campus that was 'cozier,' more homelike, and more introvert and neurodivergent-friendly," says Laurel Brubaker, a Staff Clinician in the Counseling Center. Dr. Kristina Blyer, Associate Vice President for Health and Well-Being, developed the "Living Room" concept, coordinated efforts and gained buy-ins from leadership. She, Laurel, Brittany Sehenuk and Dr. Dirron Allen then planned for a space that was "wellness-oriented," where students could come and relax. They also wanted to create a new place for students to "study and be in community with their peers." 
"The Living Room space is inspired by a multitude of literature focused on sensory-informed design," says Brubaker, "including but not limited to biophilic, neuro-inclusive and trauma-informed design principles." Walk into the space and you'll find comfy chairs, blankets, pillows and plants.  
"This is especially important for our introverted and neurodiverse students," says Blyer. "The low lighting, tea...and overall design is also helpful for all students looking to decrease anxiety." For students who want to be a little more active, it also includes fidget toys, noise canceling headphones and yoga mats.  
"This is a large space with lots of different things to do," says Jordan Kish, president of The Mental Health Awareness Club. "We have a take-one-leave-one bookshelf for students...There are puzzles and games, an art space, and free tea!" Kish is excited for students to use the space after the efforts of so many went into making it a safe, friendly place. 
Allen and Blyer want students to know that the space is open to everyone when The Union is open. Students can and should email Allen (allendd@jmu.edu) or Blyer (blyerkb@jmu.edu) if there's ever anything they can do to increase accessibility. "One of the special things about the room is that many of the items were donated by the staff within Student Affairs," says Blyer. Anyone interested in donating still can contact Allen or Blyer. "I think it shows how much we really care about our students."