A fresh vibe for The Union
Student Life
---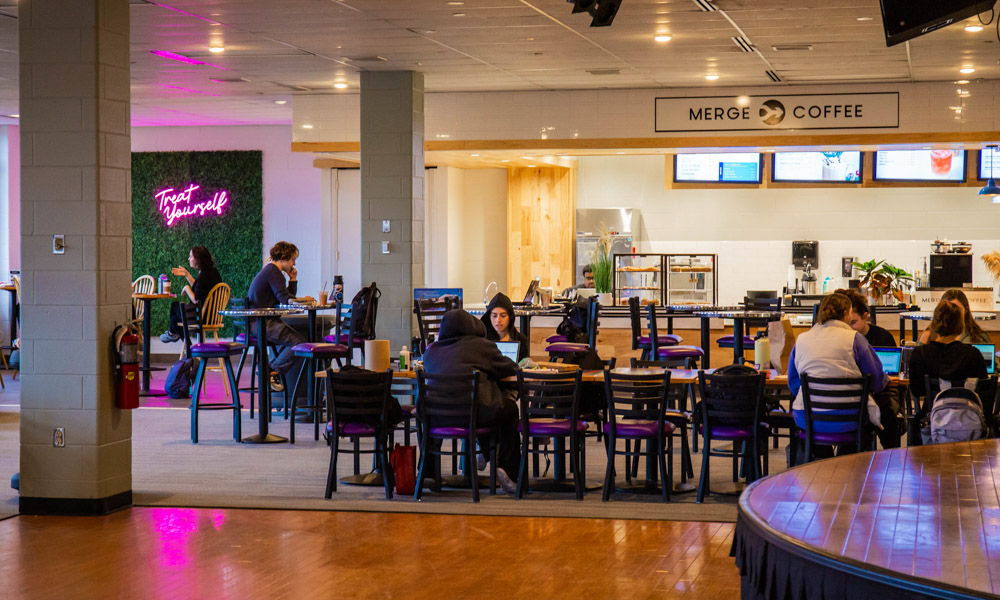 When Madison Grill and Brewbike, two companies that were previously in The Union, closed, The Union staff knew there needed to be some kind of food available to students within the building. The addition of Merge Coffee Company is just the beginning in a series of additions coming to The Union.
"Merge is different from a lot of the companies we have on campus because it is fully managed and staffed by Merge Coffee Company," Driver added. "We're partnering with a small business in the area and helping them thrive." She also says that "trying to get some liveliness back in TDU was a big reason to bring something there."
Now, the TDU space has a fresh look, with the Merge Coffee Company, new dart boards and the addition of acoustic music on Tuesdays and Wednesdays. "If you just want to go somewhere on campus … we're going to have some activities down there," said Driver. She wants students to remember that TDU is 24/7 accessible and that it's their space to feel comfortable.
"I really like the coffee and the chai tea latte," said Ashton Asimos, a freshman Kinesiology major, referring to Merge Coffee, while sitting at a TDU table with an off-campus friend. "It's a cute little space too. You get to see Godwin over there, and all the flowers are up against the windows. It's just good vibes."
Parker Morrison, a sophomore Kinesiology major who works at the information desk in TDU, has noticed the TDU space seems livelier. "[Merge] brought a lot of people down here. Our numbers are insane." Morrison noted that the addition of Merge has encouraged students to visit TDU more often and use all of the valuable new resources available.
"TDU is an extension of how we want people to feel as they come into The Union," Driver said. "We're getting ready to put up a coloring wall … and then we're trying to do a photo-op wall." Both of those will be on the second floor of The Union, whereas, in TDU, "there are recliners, massage chairs, pool tables, and all kinds of things to hang out and do."