RAD Self-Defense Program empowers through knowledge
News
---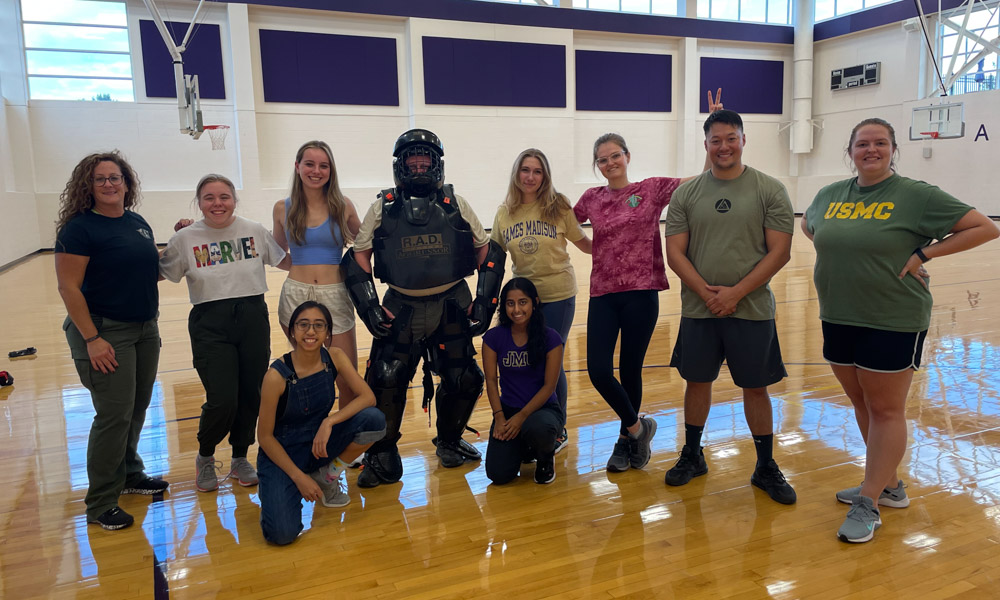 Empowerment through self-defense can be an effective tool for female students on college campuses today. That's why the JMU Police Department brings the national RAD (Rape Aggression Defense) program to UREC twice a semester. RAD is a free self-defense program taught by local police officers (in this case, the campus officers) that focuses on awareness, female empowerment and self-defense tactics.
The class meets weekly for six weeks and each meeting is approximately two hours. The first day of the program is a small lecture. "It's crime prevention like locking your doors at night, not advertising all of your personal information on social media, and Virginia laws and codes," says Jason Phillips, a corporal for the JMU PD. During the RAD program this September, he was the main instructing officer. "Once we get that classroom part out of the way it's a matter of building everyone from the ground up starting with stances and footwork to empowerment."
"We try to keep the techniques simple and straightforward but effective," adds Raymond Lilly, Training Coordinator for the JMU PD. "We look for techniques that are effective, simple to master, learn and remember." Students who choose to participate in this program learn several different skills in the short period of time and become versed in the quick thinking needed to take action in a bad situation.
"I don't want to see victims," says Mandy Robles, Police Officer First Class for the JMU PD.  "I want to see people fight back. It's so important for me to see young women [who are] soft and kind and gentle, but flip the switch when they need to."
All three of the RAD officers agree about the importance of the program and the value in trying to learn self-defense. "As a police officer, I've seen the devastation of someone being attacked, and I don't want to see anybody ever get to that," says Lilly. "If I can give you a little bit of information to protect yourself, I'm all about that."
Students begin with easy, simple tactics like kicks and punches on the second and third days of the class. The fourth and fifth days include more specific tactics, such as how to deflect someone putting their arm around you or how to overturn and overpower someone who is lying on top of you. RAD is also focused on showing that anyone can overpower anyone with the right tactics, regardless of size. The officers have favorite tactics to teach as well. For example, Robles says for her, "it's probably the kicks." Lilly says, "I like eyeballs. Poke them in the eyeballs."
The sixth and final day of the RAD class is a series of situational fights where students use what they've learned during the class to fight and "escape" the instructing officers, who wear padded "Red Man" suits so that students can practice using their full force. "I like when they're able to utilize their entire body," says Philips. "When it all comes together."
Lilly says he notices that students who take the RAD class become "more aware, and more engaged with their surroundings. They're not a victim because they're engaged." The officers also agreed that if students are apprehensive about attending the RAD classes, they're welcome to bring a friend. "We take everyone's feelings into account," says Lilly. "Everybody has past histories, good and bad. We are here to empower you. The more people here that you know, the more comfortable you are, the more engaged you are."
Overall, the officers enjoy seeing the growth of students in the RAD class. "The biggest thing," says Philips "is that [you're] taking steps to never become the victim."
To sign up for the RAD class, check UREC Register for open spots here: Women's Self-Defense Series - R.A.D - UREC Registration (jmu.edu)