Playing with puppies: UPB promotes the SPCA
News
---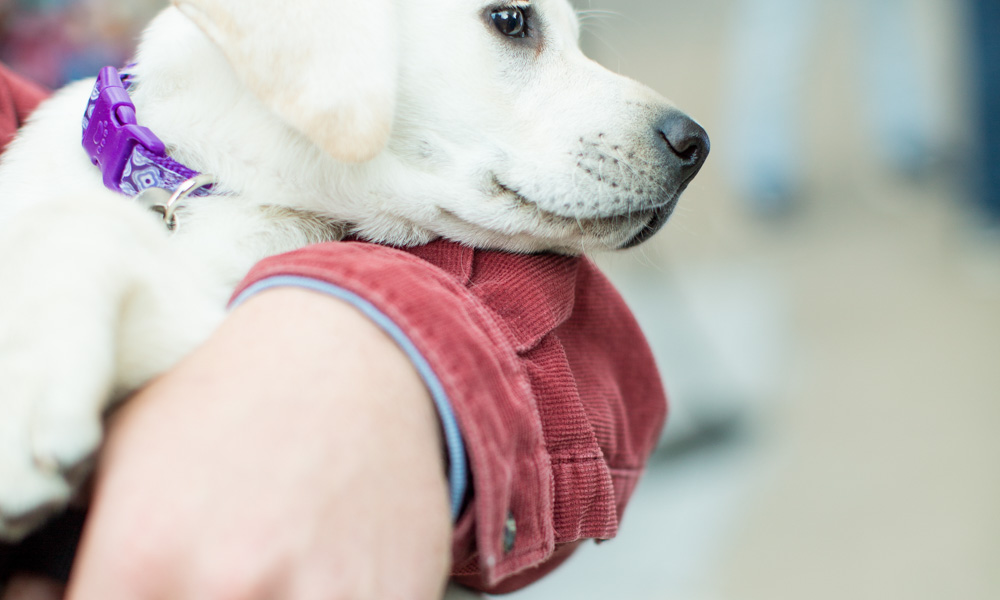 Cassie, Clark, Trooper and Gelato are four sweet and loveable puppies up for adoption at the SPCA — and if you stopped by the Union on August 31, you probably had the opportunity to meet them! The University Program Board's hit event, Puppies with UPB, invited hundreds of students passing by to pet a puppy and de-stress.
"We do a lot of fun events like this throughout the semester," says Nina You, a junior and the Vice President of Admin and Finance for UPB. "For this event, we're partnering with Dukes for Dogs and have brought animals that are up for adoption from the SPCA. You can come out to meet them and pet them."
Students gathered around each dog, petting and playing with the puppies until it was time to move on. "The puppies were so happy to get out, play and meet our students," says Kristen Poggi, the Vice President of Membership for UPB. "I loved being able to see the stress from classes melt away from those interacting with the puppies!"
Multiple UPB members were present as well, hoping to inform their attendees of UPB's future events and opportunities to join. "If you become a general member there are [General Body Meetings] every other week," says You. "Basically, you just volunteer at fun events like Late Night Breakfast, the Homecoming concert and Purple Reign in the spring."
"I love helping students de-stress and have fun on campus in numerous ways through all of the different kinds of programs we offer," says Poggi. "It's an amazing organization to be part of and it's a great way to meet so many amazing people."
UPB has a number of creative events coming up this semester, including movies, UPBuy Local, Late Night Breakfasts and more. "It's really fun, low commitment," says You. "You join a committee and can make a lot of friends. There are around 100 members in this org."
Students who are interested in joining UPB can direct message the UPB Instagram page. Students interested in learning more about Cassie, Clark, Trooper, Gelato and the other pups at the SPCA can find information on their website.