News
Disability Advocacy Week elevates disabled writers and disabled voices
---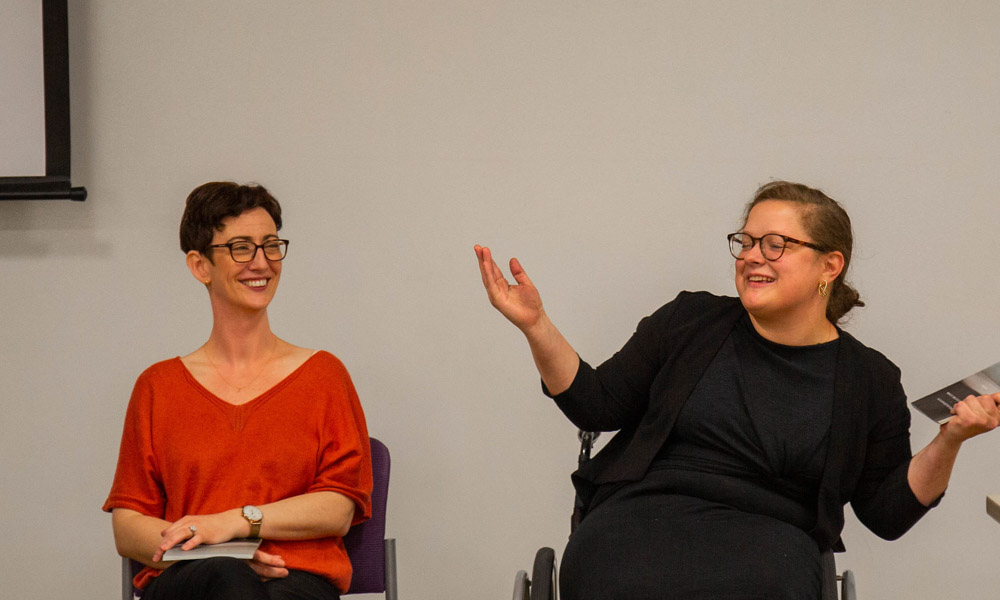 On March 23, as part of JMU's Disability Advocacy Week, keynote speakers Molly McCully Brown and Susannah Nevison discussed their lived experiences of disability, labeled a "Poetic Conversation on Disability." During the event, they read from their co-authored poetry novel, "In the Field Between Us."

In this event, encompassing the theme of "Disability is Diversity," Brown and Nevison discussed their vulnerabilities, frustrations and worldviews in their compassionate verses of poetry.
"If what is a wound was always meant to be a window," said Nevison, "then say my body is shot with light."

Brown replied, "I'm leaking light. I stain the things I touch."
Throughout their speech, there was an overall message of "rethinking the metaphor of disability" and being conscious of the words we use in our vocabulary that reinforce stereotypes. "It's hard to find an illness or disability that isn't hinged in metaphor," said Brown. "We turn to the language of illness and suffering to describe nonfunctioning systems ... For example, a 'crippled' economy."

Rethinking disability is what Disability Advocacy Week is all about at JMU, and Nevison and Brown hope to create a safe space for people with disabilities to speak out. "This book ... is a way to navigate through alienation," said Brown. "We want disability to be a source of agency. It doesn't have to be suffering and shame." Brittany Dioszeghy, the assistant director of the Office of Disability Services, attended the eventand was happy to provide the JMU community with the opportunity to hear these speakers.

"I just love the way that Molly and Susannah have not only created a deep bond together but the way that they are so willing to be generous with their vulnerability," said Dioszeghy.
Working with ODS since 2013, Dioszeghy knows the number of students with disabilities on campus goes far beyond those who have registered with her office, and events like these work as outreach to those in need.

"There's such a deep rooted history of being silenced in the disabled community, and you may never know that someone very close to you is experiencing a disability," said Dioszeghy.

"Elevating disabled writers and disabled voices was one of the reasons we brought Molly and Susannah. They can help encourage others to find their own voice."