News
Student Org Night creates community
---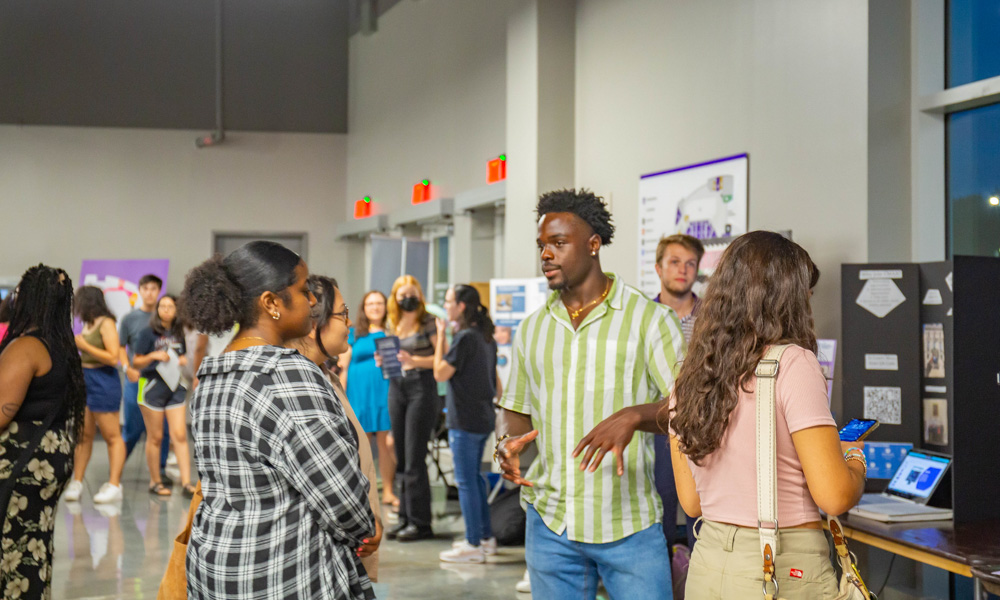 With the first days of school zooming by, students can begin to think about extracurricular activities and their plans for this upcoming semester. Student Org Night took place on Aug. 26 in the Atlantic Union Bank Center (AUBC) and included more than 330 clubs, fraternities and sororities, and business professions.
"Student Org Night is our semesterly event to allow orgs to recruit members," says Jessica Beverly, Coordinator for Organization Development in Student Activities and Involvement. "Fall is always the biggest. We're in AUBC Fall 2022. It's really a chance for incoming students and students looking to find a community to find organizations that align with their values and interests." 
The organizations attending the event at AUBC were situated on the main floor and surrounded the basketball court and seating. A walk around AUBC included packed crowds weaving from booth to booth, excited org representatives, and bright posters and giveaways advertising each group.
"We showed up tonight because we are interested in getting a lot of people involved and embracing brotherhood with everyone here," says Kaitlyn Milauskas. Milauskas is a junior Marketing and Management major in Alpha Kappa Psi, a professional business fraternity. "We love to target people who want to be involved in something. Especially people who are genuine and looking for something balanced socially and professionally."
Beverly hopes that AUBC will continue to be the home of Student Org Night in the future. She also hopes students "walk away with a better knowledge of all of the organizations we have." She says that "Student Org Night is always some of our favorite events because we see students find their interests and discover new things."
For students on the fence about joining an organization, Milauskas speaks to the community and relationship-building aspects. "Being involved in something can change your life instantly. You can meet really great people and establish friendships. That's what JMU really is about — forming relationships and community."