Student Life
Overcoming Challenges of Online Classes
---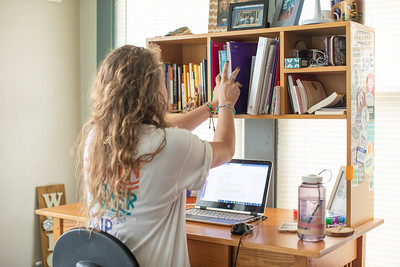 This year has challenged all of us. We've had to reevaluate how we do things, whether that's work, socialization, or even seeing family. Some of the biggest challenges, though, have been for students. Here are some of the common challenges students may face and some tips to overcome them!
You're distracted from your phone – It's so easy to have your phone right beside you through online classes. Whether you're working asynchronously or sitting through a Zoom call, you will probably find yourself reaching for that phone more times than you'd like. To keep this distraction to a minimum, try keeping your phone out of arm's reach (like in a desk drawer or backpack) and setting time restrictions.
You're tired – It's hard enough to maintain a sleep schedule with classes are in-person, but it can also be just as difficult when they're remote. Being able to wake up right before a class begins allows you to really do things under-the-wire and show up last minute. While sleeping in might seem like a good idea, it can make you feel a little out of control. Creating a regular sleep schedule and build that healthy routine will make things easier.
It's Easier to Get Overwhelmed – Having a list of your tasks for the week can be good for organizing, but looking at everything you need to do can be incredibly overwhelming. Instead of making a master list of everything, try making small lists daily, doing only what you need to do to keep on schedule.
It's Hard to Take Breaks – With online learning, it feels like there's always something you can be doing. This may make it hard to take a break. Having tasks constantly hanging over your head can create unnecessary guilt for taking time for yourself. The best way to overcome this? Add breaks into your To-Do list. Breaks can help clear your mind for productive work! They're crucial to staying grounded.
Technical issues – A lot of us don't really know computers well. With 100% online learning, you should expect to run into some technology trouble at some point. Technology may not work all the time, so it's best to be in a mindset of acceptance. Expect the unexpected and go with the flow, everyone is in it together.
Keeping motivation up – When all work is homework, it's easy to lose sight of what you're working towards. You wake up, do tasks, sleep, and repeat. With this routine, make sure to keep reminding yourself that you're working towards something larger: a degree. Do this by looking back on how much progress you've made towards your goals and outlining future steps to get there!
No in-person accountability – One benefit of in-person classes is that you're usually gently reminded of upcoming assignments by going to class. With online classes, you miss out on this. In order to stay on top of things you can check Canvas daily for each class and stay on top of your emails.
Keeping a study space – Most would say it's important to dedicate one space to classwork, but in doing that, it's easy to get burnt out on work. It's good to have that primary space for classes, but make sure to try working in different places around your house to mix things up.
Taking care of yourself – Without needing to leave the house, you might forget to do things here and there. Whether it be brushing your teeth or eating breakfast, sometimes these essential tasks fall by the wayside. Have a self-care To-Do list! You're a person before you're a student, so take time to care for yourself.
Staying in the right headspace – With so much happening in the world right now, it's hard to stay positive, upbeat, and happy. To combat this, take some time to take a deep breath, pause, write in a journal, and acknowledge that while this stuff is crazy, it's temporary. If things get tough, head over to the Counseling Center's website for information on their virtual services (

https://www.jmu.edu/counselingctr/index.shtml

)!