News
Student Ambassadors bring good tidings this holiday season
---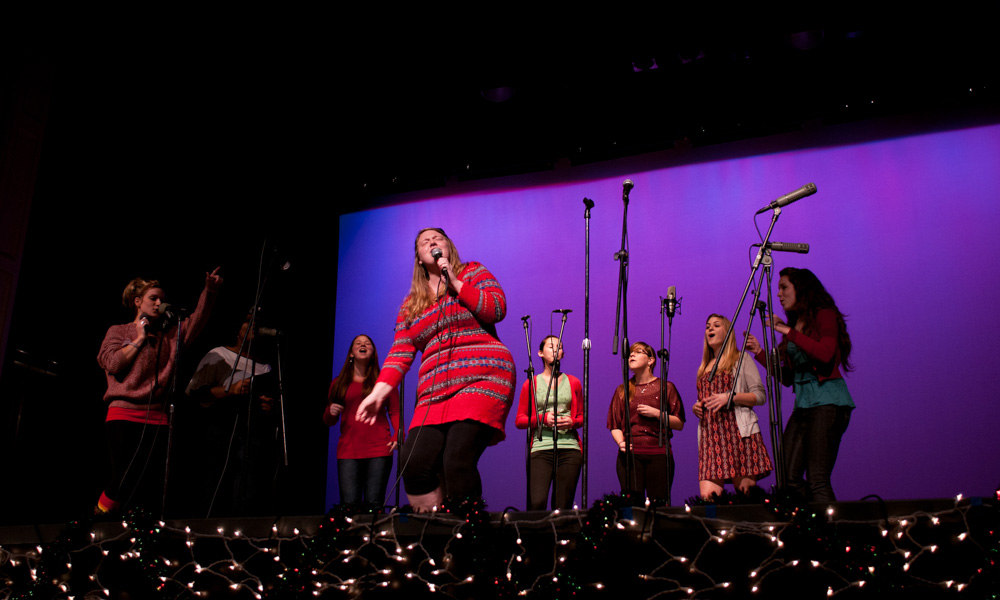 'Twas the night of the big show,
and all through Wilson Hall,
not a student was stirring,
as they watched—enthralled.
By 8 o'clock, Wilson Hall Auditorium was packed with students ready for the Student Ambassadors' Operation Season's Cheer (OSC) Show—and by the end of the show, Student Ambassadors had raised $4,454 for their chosen charity, Our Community Place.
"We're the tour guides on campus," said senior Student Ambassador, Annie Edvalson, "but we always want to give back to our community. This year, the organization chose Our Community Place to be our philanthropy for the year. OSC is my favorite thing about the org."
As students found their seats, the three Student Ambassador organizers of OSC took the stage in festive formalwear to introduce the event, the charity and kick off the show. The show featured a variety of campus groups who perform seasonal acts dressed in reds, greens and holiday cheer. Between acts, Student Ambassadors strung the acts together with a skit. "I came to support my roommate, Cammie," said Emma Lewis, a sophomore Political Science major. "She was awesome. She was one of the main characters."
Dancing Dukes, Note-oriety, Low Key, Unaccompanied, Maddy Night Live, the Overtones, Mosaic, Into Hymn and Exit 245 were the performers of the night. Each group spread their own form of holiday spirit through song, dance or comedic skit, encouraging the audience to laugh or join along in the fun. "It helped me get into the Christmas spirit," Lewis said.
But the show-stopping moment of the night? Most would probably agree was a tie between two Student Ambassadors dressed up as JMU squirrels and the Student Ambassadors' final dance, in which five male students danced to "Jingle Bell Rock" wearing only T-shirts and holiday boxers. 
Several acts earned standing ovations from some students, and the grand total raised for Our Community Place was announced at the end of the show. Student Ambassadors were excited to find out that it was almost $500 above their goal. "I think this is a great opportunity for us to be able to give back," Edvalson said. "We're such a large organization on campus, so I think being able to take the time to give back to the Harrisonburg community that gives so much to us is [a] very important part of being a student."
If you are interested in giving back and donating to Our Community Place this season, please go here.
Happy Operation Season's Cheer to all,
and to all, it was a good night!