News
Drag Show Dazzles Attendees
---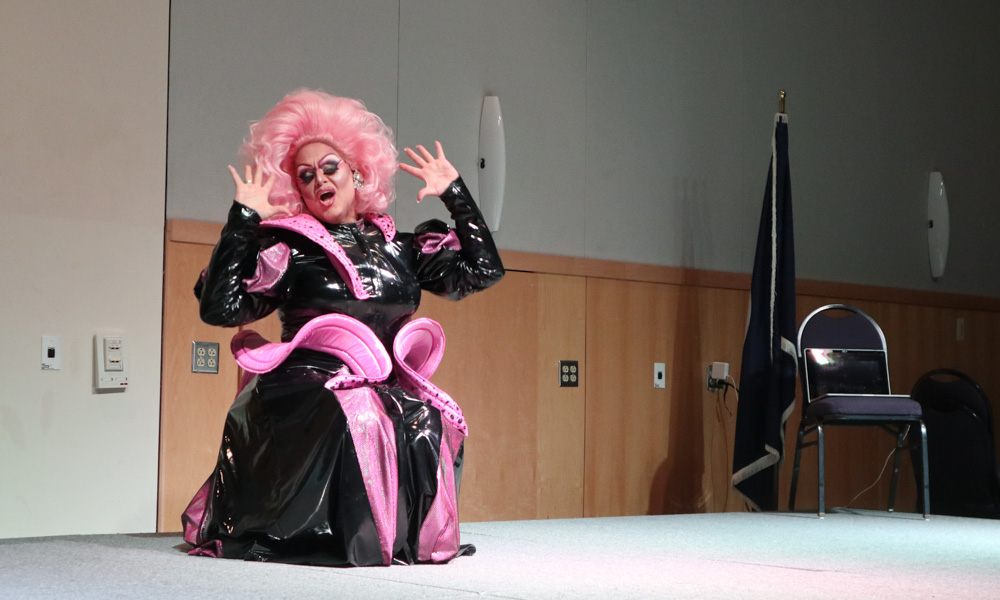 Four Queens ruled the Festival Ballroom on Wednesday, November 13, and took to the stage to dance, glitter and discuss all things drag. The evening was a joint endeavor by the University Program Board (UPB), Sexual Orientation Gender Identity and Expression (SOGIE) and the Honors College, who met several times beginning in the summer to be sure they were planning an intentional and welcoming event.
The evening began with crowds flocking through the ballroom doors. Brownies, lemon bars, cookies and drinks were served at a back table, and guests listened as Rhinestone Production's queens participated in a panel. "It's often something that we don't capture in drag shows," said Brent Lewis, Associate Vice President for Diversity, Equity and Inclusion at JMU. "You see the show, the music and the performances, but not the stories of the people who are performing."
At intermission, guests were offered another unexpected and rare moment. Kylee Wiggins, a Junior and the director of UPB's concert committee, Amplify, announced the Homecoming concert artist to the excited applause of the drag show audience. "Knowing the artist is Jason Derulo is so exciting," said another member of UPB, Kelly Jorgensen. "I can't wait to go. I've already told people about it."
The drag show itself came next, and the queens lip-synced and danced with an attitude bigger than their glamorous wigs. Students stood from their seats and watched as each queen made the crowd her runway. Thomas Oxbrow, Student Outreach Coordinator for SOGIE Programming and Sophomore Vocal Music Education major, was even brought on stage by one queen mid-dance. "I love supporting drag queens and being able to go up and dance with them myself has to be one of the greatest nights of my life," he said afterward.
At the end of the show, the queens invited students to take photos with them; the line wrapped around half of the Festival Ballroom. Guests chatted, lingering in the effects of the fabulous evening. Oxbrow said he took away from the event that, "no matter what size, age, height, orientation, gender, race, ethnicity, you can be who you are and you can be proud of it."