All Together One
Student Life
---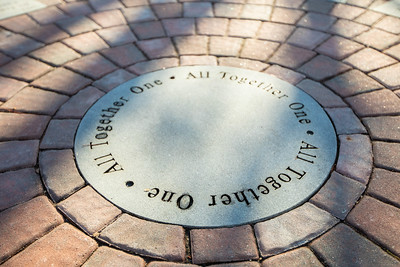 In 2002, President Rose used the phrase, "All together one," in a speech to describe the JMU community, and the name stuck with ODK, a national student leadership organization. Celebrate the community spirit of All Together One with Omicron Delta Kappa on the JMU ODK Madison Circle Facebook Page and Instagram the week of April 20th. Almost thirty Dukes who embody the JMU academic spirit of All Together One have been nominated for their leadership abilities and their collaboration across campus by their fellow Dukes. Winners will be announced over social media, but they will still be honored in person next Spring. Make sure to keep an eye out this week and cheer on the nominees.  
For more information on ODK and ATO visit here. 
Winners:
Wendy Lushbaugh
"For almost 15 years she has been the director for the Office of Student Accountability & Restorative Practices, leading it and its staff through the ever changing environment of student conduct with grace and compassion. To her, student conduct is more than just discipline - it involves personal learning, growth, and helping students to become their best self here at James Madison University. This perspective of her job is not only a reflection of her professional self, but of her personal spirit. Her intrinsic motivation for a better community, calming presence, and commitment to lifelong learning is an inspiration to all who meet her."
Dr. Jesse Rathgeber
"Dr. Jesse C. Rathgeber has only been at James Madison University since 2016, yet the influence and impact that he has had on this campus is unmatched." To quote one of his nomination letters, "Wherever Jesse Rathgeber goes, ideas formulate.". In his short time here at JMU, Dr. Rathgeber has had his hand in the development of the Center for Inclusive Music Engagement, JMUke, Stories and Songs with the Gemeinschaft House, and JMU's first Disability Research in Music Education Symposium among many others. Each one of these projects reflects aspects of Dr. Rathegeber's professional career as well as his personal spirit. Dr. Rathgeber is a man committed to fostering an inclusive community, celebrating your authentic self, and continuing to be a lifelong learner."
Bob Golson
"Bob Golson has been a prominent leader in the University Recreation Center for over 20 years, starting out in the Intramural Sports sector and moving all the way up to Associate Director for Facilities and Operations. One UREC colleague stated, "I have observed his leadership by example in putting the University above self, and without reservation I think that he is one of the most deserving staff on this campus for recognition. I am a better employee and person because of Bob and I'm sure many others would say the same." He is constantly touching lives wherever he goes, inspiring people to exceed their own expectations. He cares deeply about others, and strives to model how to live life to the fullest every day."
The X-Labs Student Interns
"Madison has taken a leadership role when it comes to social media and marketing. She has transformed the X-Labs Instagram account into a fun and engaging platform that inspires others to join the pop-up sessions. Madison is a returning intern and has been essential with helping new hires feel comfortable with the machinery and systems.
Miranda has taken charge of outside partnerships. Her willingness to reach out to new groups each week has enabled X-Labs to reach a larger variety of people and make connections with new and engaging partners. She is confident and willing to make suggestions, demonstrating her capabilities to always seek improvement.
Emily is a new hire this semester, but has astounded the rest of the X-Labs team on how fast and willing she is to dig into the technology in the lab space and create accessible programming on tough topics. Her bright and energetic personality captivates Open Lab and Pop-Up patrons so that they feel welcome and capable about topics such as living hinges and encourages others to create their own projects with these concepts no matter their background.
Being an international student in the arts, Alecia has been a great value to the team in terms of reaching new student populations and creating captivating experiences for our patrons. Her quiet and approachable persona makes her a great asset as she is able to calmly and patiently guide participants through complex design problems, helping them find a solution.
Cameryn surprised the team from the beginning. This semester not only has she planned and taken charge of several of the Pop-Up workshop themes, but she has also extended the JMU X-Labs community online through vlogging on Tik-Tok and YouTube. Her energy, enthusiasm and ideas not only inspires Open Lab and Pop-Up patrons, but has inspired our team to look for new ways to connect with our community and involve others.
Robin has been a great value to the intern team as he makes sure that we have a good balance of workshops and activities that intrigue both females and males in the X-Lab's space. He has pioneered new topics and partnerships through his involvement with the arm-wrestling club and has brought his passion for the sport into our programming. His attitude and friendliness is infectious and he makes sure that everyone that walks into the lab is greeted with a warm welcome.
Jessica has done a superb job of thinking outside the box and helping expand X-Lab's impact to visiting patrons. Jessica is particularly great at inspiring others to think big by consulting with them during Open Lab as well as creating a variety of high-quality examples for patrons to visually understand what they can do and make in the lab. Her work inspires new and returning patrons alike with sample projects."
Diane Hamilton Puffenbarger
"Diane Hamilton-Puffenbarger has been an employee in the Department of Procurement Services for thirty five years - starting out as an administrative assistant and working all the way up to Procurement Manager. Many individuals cited Diane's "presence, soft spoken voice, and knowledge as a constant breath of fresh air that could instantly calm one's spirit in the storm of building preparation". Just a few of the many projects Diane has had her steady hand in include the Forbes Center for the Performing Arts, the Student Success Center, and the Health and Behavioral Sciences building. Unfortunately, this summer Diane will be retiring from James Madison University. While she may not physically be with us as we enter into another school year, Diane's presence will continually be felt across this campus."