Student Life
All Together One Awards Nominations due March 19
---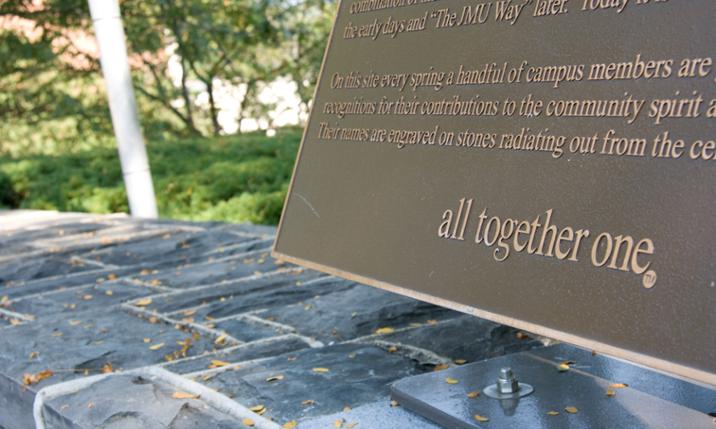 All Together One is a theme that has come to embody the spirit of James Madison University. All Together One signifies the unique closeness that binds our community members with each other. It is the feeling of comfort and camaraderie on the JMU campus.
Dr. Rose first coined the term "all together one" in his 1999 inaugural address. Previously, the spirit of JMU's campus was referred to as: "The Spirit of the Blue Hill", "The Madison Way", and "The JMU Way". Ever since, the term "all together one" has been put on class rings, it has been used by numerous student organizations to express their goals, and it has become the official university theme.
The national leadership honor society for students, Omicron Delta Kappa, coordinates an annual All Together One Community Gathering. The Community Gathering is held every spring to commemorate the JMU spirit. Members of the Madison community are invited to make nominations for persons they think embody the "all together one" spirit. Then, the selected nominees are recognized at the Gathering, awarded a pin, a stone, a certificate, and their inspirational story is read.
Nominations Deadline:
Deadline is Monday, March 19, 2018 by 12 noon. Please send one to two page nomination by email attachment to odk@jmu.edu, or hand carry to Sue Bauer, Madison Union, Room 200.
Awards Ceremony:
The Community Gathering will be held on Tuesday, April 10, 2018 at 12 noon in Grafton-Stovall Theatre.
For more information, visit the All Together One Facebook Page or www.alltogetherone.org