News
A Greek Halloween
---
Little monsters and superheroes prowled around Greek Row Thursday, October 26 in search of a scary good time without the looming dark skies. Members of the Greek community, some in costumes and animal ears but most in their letters, gathered in front of sorority row to hand out candy and help the kids with crafts and games. The parents, many of whom are JMU graduates or employees, trailed after the swarms of dressed up children as they ran up to each house on the row.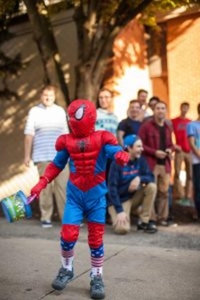 Members of Fraternity and Sorority Life stood in front of the houses, decorated with Halloween signs, spider webs, and pumpkins, as they yelled "Happy Halloween" to the kids. They filled the kids' bags with handfuls of candy and showed them how to toss rings onto the stems of pumpkins and wrap lollipops in tissues to make ghosts. Some tables even had music, but others had dogs playing in their own costumes. Once the kids were done making crafts and playing with the dogs, their parents attempted to make them pose for professional photos by the office of Technology & Design.
Even more fun was in store for the kids when they scrambled to take pictures with the pack of TKE minions. The bright yellow "skin" and blue overalls attracted the attention of the kids and anyone who spotted them biking around campus earlier that day.
"It gets a lot of laughs," said Jack Donohue, a freshman accounting major and TKE pledge.
Their costumes were popular, but several TKE and ZTA members expressed that the kids' costumes were their favorite part. After all, the two organizations, and all of the others, were there to help the kids have the best Halloween possible. The TKE brothers thought minions would be the best group costume to help everyone have a more fun Halloween.
"Minions, they travel together," said Carl Viola, a freshman finance major and TKE pledge.
Groups of sisters and brothers seemed to travel together everywhere, just as minions do. Lizzy Kelton, a sophomore IDLS and dance double major in Alpha Phi, said her favorite part, other than the cute costumes, was "how excited they are to be here."
Many of the volunteers expressed how much they loved seeing the children have fun with their costumes in a safer daylight setting. Other Alpha Phi sisters gushed about how surprised they were about the crafts and games being so popular with the kids.
"It makes me want a niece or a nephew, like not my own kid," said Ashley Rosal, a sophomore health sciences major and Alpha Phi sister.
Maybe Rosal doesn't want kids now, but after she graduates, she could come back to Trick or Treat on the Row with her kids. Graduate Shelley Newman kept up with this tradition and brought her daughter Nora this year.
Newman has been attending Trick or Treat on the Row for several years to support JMU as an alumna and staff member at Information and Technology. Even before her daughter was born, she came with her niece.

She said she loves the costumes and photo ops but her favorite part is, "bumping into young families that I know and new ones that I don't."
This year is special because she is supporting the sororities and fraternities even more by bringing her JMU graduate husband and dressing Nora up as a ladybug, her past sorority ASA's mascot. Like the rest of the attending families, Newman continuously expressed how much what the event means to the community.
"We really appreciate FSL putting this on every year," Newman said, as Nora walked back to her mom with chocolate smeared all over her face.
Nora and the rest of the little animals and witches will remember this special treat and have years to look forward to with more candy, games, and Halloween fun.