News
One-Stop Shopping for Student Housing
---
As September fades into horizon, as the leaves turn their autumnal shades of orange and brown, and as the school year begins to sink in, some JMU students are preparing to tackle their next collegiate milestone: signing a lease.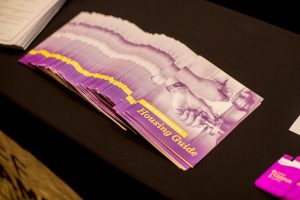 Thanks to Off-Campus Life, apartment-hunting novices won't have to tread uncharted waters alone. On Wednesday, October 4th, students wandered in Festival Ballroom by the hundreds for Off-Campus Life's annual Fall Housing Fair, a low-pressure event where students are free to browse different off-campus housing options.  
The event acts as a "one-stop shop for students to see the available student housing in the area that advertises through [the OCL] office," says Rebecca Carbaugh, coordinator for Off-Campus Life.  Representatives from all around town set up tables to advertise their properties' rates and amenities, and to answer any questions that students might have about signing a lease. The fair proves to be helpful for first-year students in particular by bringing the rest of Harrisonburg to them.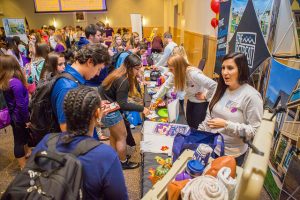 "[First-year students] are all stuck in dorms and everything, they don't really leave campus that much," says Alex Leslie, a sophomore SMAD major and Hills of Harrisonburg representative. "They won't really hear about us until now." 
 The housing fair is many of Harrisonburg properties' chance to make a good impression on students wishing to move off campus. At each table, representatives from each property were waiting to kindly answer questions that students might have about signing a lease. Students stood in lines of 25 to 30 people to collect flyers, packets of information, and free goodies. 
 Among the more popular promotions were T-shirts from Northview and Urban Exchange, coozies from Sunchase, phone stands from The Hills, bags from Campus View, and an Apple TV which was being raffled off.  
 "I pretty much came for the free t-shirts," says junior SMAD major, Grace James. Many students who hear about the housing fair, via mass email or flyers, attend merely for the free stuff. That doesn't mean they didn't leave with valuable information about places they might be able to call home next year!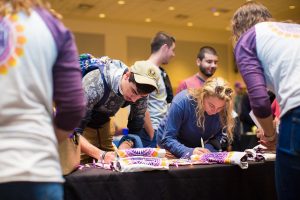 The beauty of the housing fair is that, intermixed with all of the fun and free things, valuable information and conversations help students make important decisions regarding housing. "I think it's easier to come here and talk to people in person than try to find stuff online," says James.  
 Sophomore nursing major Michaela Allen, who had some specific requirements about her future home, got information on "pricing and who had five bedrooms and who did not," she said. "That was definitely helpful." 
 After each fair is done, the vendors see about 900 JMU students cycle through Festival Ballroom. If you missed this one, stay tuned for Off-Campus Life's Spring Housing Fair, set to take place Wednesday, February 28th at 11am in the Festival Grand Ballroom.