News
Run From Zombies; Help Brain Injury Recovery
---
By: Allison Capley ('16), Student Affairs Technical Services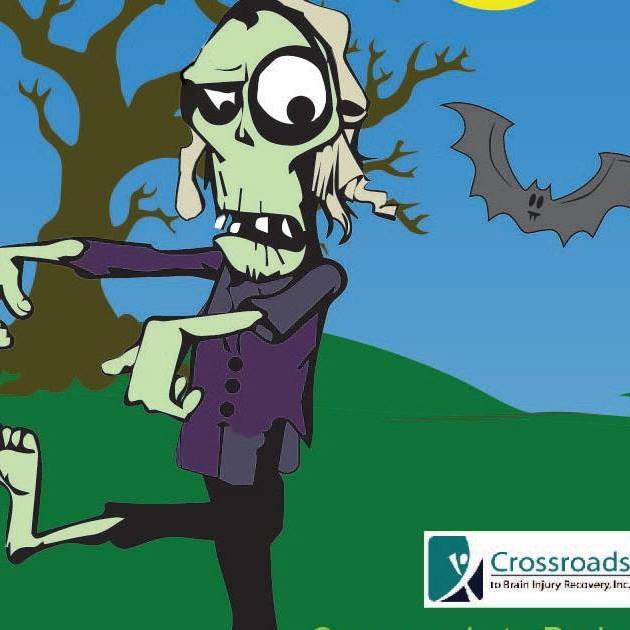 Harrisonburg's 1st annual Zombie Run for Brains is coming up on Saturday, October 17th! The run will be held on the grounds of Fear Forest (6340 Oak Shade Road in Harrisonburg) and will start at 11:00am. This event is family-friendly and supports a great cause.
The zombie run will be sponsored by Gamma Sigma Sigma, and all of the proceeds are going to Crossroads to Brain Injury Recovery Inc. Over 28,000 people in Virginia along are affected by a brain injury, so come show your support and participate in this unique fundraiser! Crossroads to Brain Injury Recovery is a local non-profit that combines public and private resources to provide specialized services to meet the needs and improve the quality of life for individuals affected by brain injury in the Shenandoah Valley.
You can register in-person the day of the event, online at Eventbrite, or you can download and send in a registration form at the Crossroads website. If you register by October 9th you will get a free t-shirt included with your registration! Fees are as follows:
Adults: $25 ($2.24 service fee if purchased online)
Youth ages 11-college: $15 ($1.74 service fee if purchased online)
Children under 10 with 1 paid adult: Free (does not include free t-shirt if registered by the 9th)
The race will be a 1.5-mile course where participants will be given flag football belts that represent "lives." It will not be timed, and the goal is to have at least 1 life belt intact upon completion of the course. Try to "survive" as you walk or run through the cornfield and woods of Fear Forest—zombies will be lurking around hiding and waiting to steal your belts!
The rain date for the zombie run is Sunday, October 18th at 2:00 pm. For more on the Zombie Run, visit the Facebook event page or for any other questions and concerns, email zombie@c2bir.org.
Published: Thursday, October 1, 2015
Last Updated: Friday, April 6, 2018