Student Life
In Passion, She Serves
---
By Scott Oslin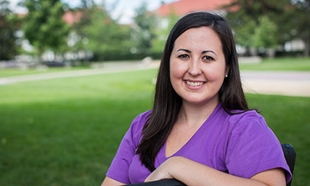 Cassidy Lawson works with UPB as part of her graduate assistantship through the CSPA program at JMU. Photo by Michael Watkins for JMU University Unions.
Cassidy Lawson, UPB's graduate assistant and a second year student in JMU's College Student Personnel Administration (CSPA) program, has had a hand in almost everything you could think of on a college campus. For all of her involvements in her undergrad career, it's easier to ask what she wasn't a part of at Radford University. She even graduated as a Psychology and English double major in its Class of 2013.
"I was an RA for two years, I was a peer instructor for new student programs, I co-taught a class with a faculty member for two years," Cassidy said, "I was a tutor at our resource center. I wrote for The Tartan, and I was in the English club and a couple of honor societies."
Despite all of it, Cassidy was never really stretched too thin. "It was tough at some points, but I liked being busy. It was more empowering."
Her love of all of the elements in college life started as she was raised in Wytheville, VA. "I grew up with just me and my mom. She's a photographer. She's always supported me with her art and encouraged me to explore whatever it is I wanted to do." Cassidy cites her mom as a driving force to becoming a first-generation college student. Coupled with all of her activities in undergrad, Cassidy felt spurred to not only pursue more, but to become a part of higher education.
At one point, she considered teaching. "I didn't find that it was great for me. I'm a people person and that's where I get my energy. The students weren't as passionate about English as I was." Cassidy found later that her passion lies in, well, passion. "[In student teaching], there was so much rigidity, but I found student affairs was my future."
In the CSPA program, students gain practical experience through assistantships around the JMU campus. Her first year in CSPA, Cassidy was the hall director for Ikenberry Hall. Currently, she's taking several student development courses and acting as UPB's graduate assistant. "I help out with Center Stage and Spotlight Sounds. I help the directors figure out what's going on in their committees and help out with events. I'm always going to what they're putting on." Alongside UPB Coordinator Anna Lehnen, Cassidy figures out the contracts and the logistics to make UPB's events successful around campus. From Frostfest to Big Sean, she's a supportive force behind the student organization.
On the academic front, Cassidy's learning how to be a professional in the student affairs field. "You come to work every day for the students. You really have the students and their development in mind, helping them find out their strengths and what their passions are." Becoming an active member of a student affairs environment, for Cassidy, means becoming invested in the lives and the futures of that university's students.
Sometimes, though, the job does get frustrating. "When you're in a college setting, there's always going to be dumb decisions. You have to help students learn from them." Fortunate to be in college However, not all of the students she's seen act the same way. "[Some] students don't realize their own privileges. They're not self-aware with themselves and how they affect others." It's this grounding that has kept Cassidy so appreciative of her opportunity and she hopes to impart that to others in the future.
Outside of her busy academic and extracurricular life, Cassidy enjoys the simple pleasures. "I have a JMU bucket list. I try and hang out with my friends a lot. I like going to the planetarium, going to sporting events, and going to the Reddish knob."
Where does she go from JMU? "If the opportunity arose, I'd stay in Harrisonburg. It's a good mix of a college town and it has a good community outside of the student body. It's a nice diverse area just two hours away from DC." Wherever she ends up, Cassidy's infectious drive will inspire those around her.
As for now, Cassidy''s dedication to serving the student body continues to be a welcome addition to the JMU community.
Published: Friday, May 1, 2015
Last Updated: Friday, April 6, 2018