Student Life
Greek Life at the Graduate Level
---
By Eric Cecchett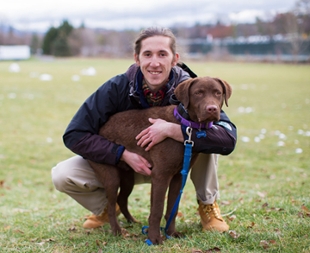 Matt Ferramosca with his dog, Moose. Photo by Stephen Meyer for JMU Technology and Design.
Once a freshman with aspirations of being in a fraternity and perhaps even attending law school after graduation, FSL coordinator Matt Ferramosca has seen many twists and turns in his career here at JMU.   
Ferramosca's other responsibilities include overseeing Excellence Awards among FSL members and also advising the Allied Greeks and Athletes program. This unique program takes an athletic team and fraternity or sorority and pairs them up for the year. The two clubs attend each others functions and generally act as a means of support through all their events. Ferramoscas role in FSL entails a number of different responsibilities, including the advising of the President's Counsel, advising G.A.M.M.A (Greeks Advocating the Mature Management of Alcohol), as well as coordinating various events around campus.  Most recently, Ferramosca was put in charge of organizing national hazing prevention week at JMU.   
"Working with the Hazing Prevention Week was a great experience for me," said Ferramosca.  "As a student that has seen the negative effects of hazing in the past, I really enjoyed having the opportunity to help with this cause." 
After rushing for and being accepted into a fraternity his first semester, Matt's hopes of becoming a part of Greek life were quickly extinguished.  Due to allegations of hazing and non-compliance with administration, the chapter was removed from campus.   
"It was a really disappointing experience for me," said Ferramosca.  "I felt like my fraternity experience wasn't everything it could have been, and this played a big role in my desire to get involved after graduation." 
By his Junior year, Matt was looking for a new way to become involved while also making money to help feed his new Pit Bull/German Shepard mix puppy, Annabel.  What he finally discovered was the Office of Student Accountability and Restorative Practices (known as the Office of Judicial Affairs at the time).  During his involvement with the organization, he spent his time interacting with students, hearing their disciplinary cases, and ultimately helping them.  
Although his major was in political science, and his sights were set on law school, Matt was eventually convinced by Dr. Josh Bacon, Director of Judicial Affairs at JMU, to change his direction and consider the College Student Personnel Administration (CSPA) graduate program.   
"Dr. Bacon helped me realize that I didn't want to sit in an office all day," said Ferramosca.   "He showed me that the CSPA program could give me the opportunity to do what I love and interact directly with the student population every day."  
After enrolling in the CSPA program, Ferramosca knew he wanted to fulfill his required assistantship with the FSL department.  He is now finishing up his first semester as a graduate assistant. 
Though his schedule between Greek life and classes is busy, Matt Ferramosca is right where he wants to be.  After missing out on the fraternity experience that he had hoped for during his undergrad, Ferramosca is able to be involved in a way he would never have imagined as a freshman.  
Looking to get involved in the Greek community? Find out more by visiting the FSL website at www.jmu.edu/fsl!
Published: Monday, February 9, 2015
Last Updated: Friday, April 6, 2018