Student Life
Graduate Leadership in the Greek Community
---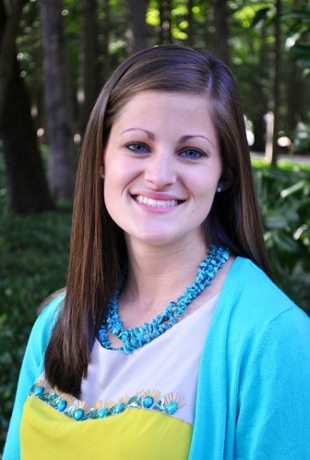 Makenzie Beam is the Graduate Assistant at JMU Fraternity and Sorority Life.
By Charity O'Connor
One would not immediately assume that accounting and Greek leadership are a common pair. But for first year graduate student Makenzie Beam, the two coexist seamlessly to make up her first and only year here at JMU. Beam is about halfway through the completion of her Masters of Accounting program, and is also one of two Graduate Assistants for Fraternity and Sorority Life (FSL).
Beam, a May 2014 grad, received her Bachelors in Accounting from Furman University in South Carolina. But coming to JMU was coming home for Beam, a Harrisonburg native, and she has easily found her place amongst the teeming Greek community here.
Having been a member of a sorority during undergrad, the Greek community is not new to Beam, and getting involved at JMU was a given: "I thought since I'm only here for a year, it would be a great way to really get involved in JMU." Beam's favorite aspect of her graduate assistantship is the people. "The majority of my time is spent meeting with people and working with people, which I just think is really fun. There's something new and different everyday." She channels this love of people into her position, and tirelessly works to promote the best interests of the Greek community.
Beam works on several different ongoing project areas throughout the year including, Leadership Institute (LI), Greek Week, advises Junior Panhellenic, co-advises Panhellenic Council, and serves as a general resource for the JMU students and staff of the Greek community. LI is one of the most hands on opportunities for Beam to plan, and the program seeks to cultivate strong leadership skills in new Greek student leaders through a weekend retreat every January.
Beam sees her work as the FSL graduate assistant applicable in many ways, and the skills she learns here will stay with her well into her future career as an accountant. "I think working with people is just always a really good skill to have, and realizing that you can branch out of your area [is important]." Beam's passion for people, and affinity for providing support to Greek organizations will likely lead her to continue to stay involved long after she graduates, as a Greek adviser.
Looking to get involved in the Greek community? Find out more at info.jmu.edu/fsl