Student Life
MAD4U Fosters Growth Through Service
---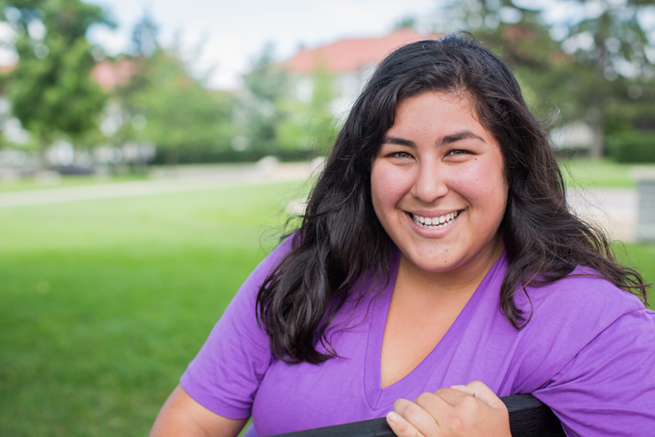 Kristina Rubio is the Graduate Assistant for MAD4U at JMU. Photo by Michael Watkins for JMU Technology and Design.
By Charity O'Connor
Kristina Rubio is a Cali girl at heart, but has found her home here among the Blue Ridge Mountains at JMU. Having grown up in Diamond Bar, CA, a suburb of Los Angeles, life here in Virginia was a change of pace. Rubio completed her undergraduate degree at the University of Tennessee, Knoxville before taking a year off and deciding to further her education at JMU. Rubio is a first year graduate student in the College Student Personnel Administration (CSPA) program and the graduate assistant for MAD4U.
"Student Affairs is the education that happens outside the classroom." Rubio first discovered her passion for Student Affairs after going on an alternative spring break during her undergraduate time. This division of higher education is dedicated to fostering the growth of students, and this critical development is what Rubio finds most rewarding.
Rubio supervises a staff of seven "MAD4U-ers," and together they hold ten events per week. "It's really amazing how much work can be completed with just a set of really awesome, intentional people." Rubio also helps plan MAD4U's special events, one of their largest being their "For Love" benefit gala. Each year this gala benefits a different cause, providing dukes with a fun evening, as well as life changing funds to a charitable organization. Previous galas have included For Love for Haiti and For Love for the Gulf.
"The intentionality is something that stands out for me. We do things for a reason, and we put thought into what we do," Rubio says of MAD4U's events, particularly Teatime. She sees MAD4U and its housing in the Office of Student Activities and Involvement as a sort of home for students. What motivates Rubio most is the students, and the ways that their passionate involvement demands thoughtful programs.
When she's not organizing Open Mic Night or working with the MAD4U-ers, Rubio is likely to be cooking or daydreaming about her next trip. Having travelled to 24 states during her 24 years, she hopes to see more of the world in the future. Or, on a relaxing day, Rubio might be binge watching her favorite show, Gilmore Girls, or training for her goal of running a half marathon.
Rubio sees her journey through graduate school ending in a place where she can pursue a happy marriage between her love of Student Affairs and service learning. Having given a year of service to AmeriCorps, Rubio is passionate about not only helping others, but also facilitating valuable experiences through service. While she hasn't nailed down her plans yet, she is optimistic that another year in school will help her narrow her focus.
Published: Friday, March 1, 2013
Last Updated: Friday, April 6, 2018