News
"Our first love and last love is self-love"…
---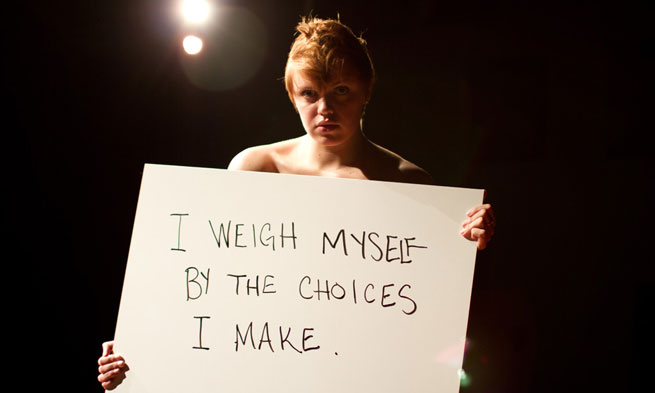 By Kelley Freund ('07) and Veronica Jones
Ron and Sally George lost their daughter Leslie, a JMU student and member of the Tri-Sigma sorority, to an eating disorder in 2000. Her battle with an eating disorder has been the catalyst for awareness and prevention of eating disorders at JMU.
The Georges founded the Leslie George Memorial Fund for Eating Disorder Awareness, which has been essential for efforts to educate others about body image acceptance and eating disorders prevention.  With help from the memorial fund, the University Health Center's Student Wellness and Outreach partnered with JMU students to create a body image acceptance campaign called Absolute Value.  The goal of the campaign is to discover what students value outside of physical appearance.
Cali Allen is a member of Peers Reaching Others through Motion (PROmotion), a peer education group that promotes self-esteem and a healthy lifestyle through physical and educational activities. "The students in PROmotion are all employees of UREC working in fitness or group fitness and we want our participants working out for the 'right' reasons … to maintain health, increase strength, etc." says Cali Allen.
PROmotion is a firm believer in the mission of the Absolute Value Campaign. "A campaign like that is highly important in today's society as the media and culture influence perceptions of many young men and women [in terms of] how they should look," says Allen. "They teach people they must look a certain way and be 'skinny' when in reality everyone looks different and has their own amazing features, inside and out."
Allen hopes campaigns like Absolute Value will increase confidence among young adults across college campuses. She hopes that individuals with unhealthy behaviors and perceptions about their bodies will see the groups and campaigns like the ones at JMU and start to change their behaviors and attitudes about themselves.
See what fellow Dukes value, and submit your own image and statement to the Absolute Value website at www.yourabsolutevalue.org.
To view the video created for the Absolute Value Campaign, see http://vimeo.com/36025376.