Student Life
The Laughter is Spreading
---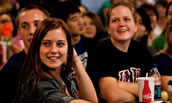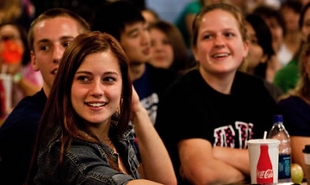 by John Huffman 
"Can you tell me somewhere your grandmother wouldn't want you to know she visited?" The crowd doesn't hesitate; they're used to questions like this. Within seconds an answer is shouted from the back of TDU and something magical happens: an improvisational comedy scene is born. Members of JMU's improv comedy troupe New and Improv.'d take audience suggestions, typically yelled from the back of TDU, and use them as inspiration for the entertaining scenes and games they perform. "Improv is the art of making stuff up," says Jeremy Tuohy, a senior Theatre major and the director of New and Improv.'d. "Everything that is done in a night of improv is completely unscripted. It's a very collaborative process." 
It's a collaborative process that results in a fun escape for everyone participating, both the audience and the performers. Abigail Moore, a freshman SMAD major, just joined New and Improv.'d this year. Like many others before her, she became interested in improv comedy because of the TV show "Whose Line is it Anyway?". Since joining the troupe, she has found that practicing and performing comedy at JMU has helped her get away from some of the everyday stresses of being a college student. "It's one of the most fun things I've participated in," she says. "No matter what's going on in the week you can always go to improv and just forget about everything."
New and Improv.'d has been performing shows for the past thirteen years, and in that time, they gained a reputation for putting on great shows. They aren't, however, the only comedy group on campus. Student-generated comedy has been expanding; this year, a new comedy group calling themselves Maddy Night Live gave their debut performance to a packed Warren Hall on November 27th, 2012. Maddy Night Live doesn't do improvised comedy like New and Improv.'d. Instead, they found a flavor all their own in the realm of sketch comedy. Nathan Gallagher, a junior WRTC major, is a member of both Maddy Night Live and New and Improv.'d (the two troupes share several members). Nathan enjoys exploring comedy in different ways with the two troupes. He explains the difference between them, saying, "I really like the behind the scenes collaboration idea. With Maddy Night Live, you can really talk and revise. With improv, you only get one shot, but there's this sort of energy with improv."
With two clubs on campus tackling comedy in different ways, it's clear that student-generated comedy is as strong as it's ever been at JMU. The campus benefits from comedy shows that provide a fun, safe environment for Dukes to unwind and laugh together. "This is a really good place where people like to laugh," says Jenna Frick, a junior SMAD major and the President of Maddy Night Live. "People like to have a good time. They're very open and welcoming and would love to come to any kind of comedy show, whether it's sketch comedy, a play, or an improv show. JMU's just a good place for that." 
If you're interested in attending a show or becoming a part of one of these troupes, look for more information online:
Visit Maddy Night live on Facebook.
Follow Maddy Night live on twitter @MaddyNightLive
Looking to explore more unique clubs at JMU? Check out Student Org Night 2013 on Thursday, January 17th at Festival Ballroom from 8-10pm.