Exhibit allows SMAD students to showcase alumni's work
Media Arts and Design
---

The SMAD alumni network is on full display in the SMAD Gallery in the ground floor hallway of Harrison Hall.
Through the end of the spring semester, posters and videos highlight the career paths of SMAD alumni — who now offer words of advice to current students as they plan their futures. Students who pass through the exhibit are invited to draw slips of paper inscribed with wisdom.
"Never give up on your goals and dreams," is the tip from Christine (Chin) Warren, a 2004 DVC alum, who is director of marketing for TEGNA/13 WTHR, an NBC affiliate. "Surround yourself with allies and mentors who will help you grow and succeed, so that you can then uplift and empower others!"
"Take every opportunity you can, and don't be afraid to try new things," said Zach Hill, a 2020 journalism graduate who is now director of advocacy for the Southern Maryland Association of Realtors. "You never know where you could end up."
Visitors to the SMAD Gallery also can see examples of alumni work on a video loop. Posters also profile six alumni and seven employers.
The exhibit was created by the SMAD 332: "Visual Communication Design" class that Prof. Adrienne Hooker teaches.
"We feature a wide variety of alumni — go-getters, entrepreneurial types, and they range from a sound designer alum to one that's actually doing instructional design at George Mason," Hooker said. "It's not just motion or digital. There are other things on the wall, too."
Hooker and her students contacted SMAD alums who had been active in SMAD Day to identify the people and companies to profile. They also emailed 3,500 SMAD alums to solicit the career advice and received 142 responses.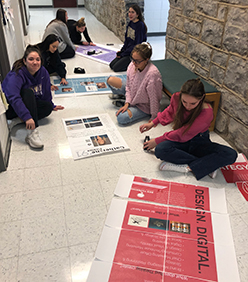 Catherine Conboy, a SMAD creative advertising senior, said it was a satisfying feeling seeing everything coming altogether.
"The main takeaway that I had was how important it is to communicate ideas and design aspects throughout the entire execution in order to produce consistent, quality work," Conboy
said."
Students also learned more about the businesses graduates work for or have started.
"I enjoyed working with my alumni business, Red Thinking, and seeing all the great designs they've created over the years," said Mira Dover, a junior creative advertising concentrator.
Hooker said she hopes the art exhibit will become an annual event so there will be new alumni and companies to spotlight each year.
"It shows what we all know as faculty, that the students and alums want to help each other," she said.
In addition to Conboy and Dover, students who created panels for the exhibit are: Lillie Gonzalez, Aubrey Grubbs, Sidra Swift, Grace DeMaso, Yousra Errami, Kayla Liske, Emma Sweterlitsch, Jane Gerrard, Hunter Blake, Anna Jeffrey and Rachel Keller.
Featured alumni are: Jeremy Cherry ('11), Dominique Dean ('20), Catherine Eunice ('91), Javay Frye-Nekrasova ('16), Casey Templeton ('06), and Sidney Yi ('17).
In addition to Red Thinking, based in Washington, D.C., featured employers are Digital Minerva, Harrisonburg and Charlottesville; Martin Agency, Richmond; Power Digital Marketing, offices in San Diego, New York and Washington; Stacks, with offices in Bend, Oregon, and Nashville, Tennessee; TeePublic, New York; and withSimplicity, Harrisonburg.