Media Arts and Design
'22 grad's film wins best short in Virginia film fest
---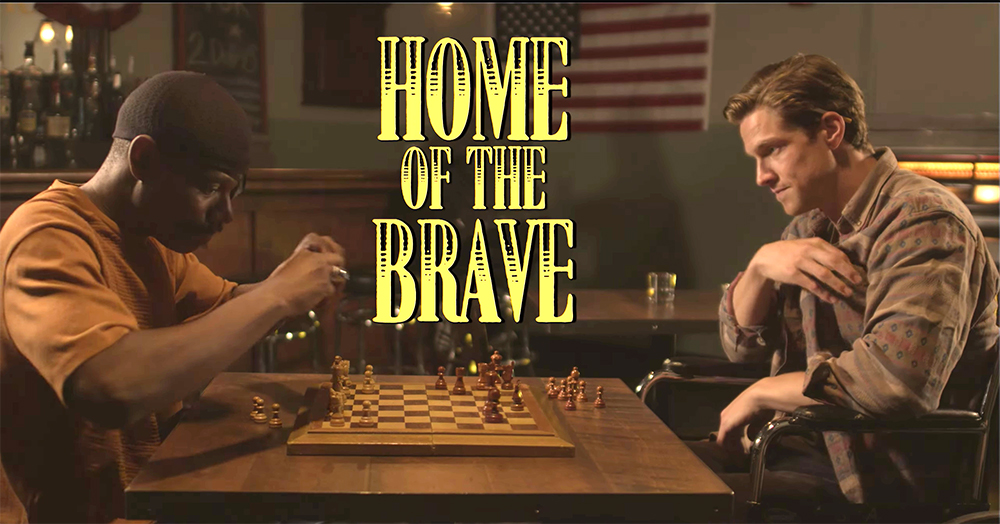 "Home of the Brave," written and directed by 2022 SMAD alumnus Ian Welfley, won Best Short Narrative Film at the Virginia Film Festival in November.
Current students on the project were Joe Grace, Ryan Predenkoski and Jared Briscoe, all SMAD majors in the Digital Video and Cinema concentration. Maxwell Johnson, a 2022 DVC graduate, also worked on the film.
"Home of The Brave" is about a veteran of the war in Afghanistan who meets a veteran of the Vietnam War in a bar late one evening. The two started playing chess and talking about their past. They have a lot more in common than they think.
Welfley developed the screenplay through the JMU/SVA Summer Program in New York, directed by SMAD Associate Professor Imelda O'Reilly. The film program, which will accept students again for summer 2024, teaches everything from pre-production to production to post-production. Students leave the four-week program with a completed film that has already been screened for an audience. 
"I recommend every JMU DVC student or just any creative student to go on the New York trip. It's the best thing JMU has to offer," Welfley said. 
O'Reilly and her teaching assistants mentor the students during the program.
"Each group gets a small budget and within each group, there is a writer, director, cinematographer, person to do sound, and producer and then every group has a TA," O'Reilly said. 
Johnson, who assisted with lighting and cinematography, was the TA for the "Home of the Brave" group.
"I feel like a TA role was beneficial for everybody," he said. "It was just awesome to see the growth of the two younger guys that I was working with. It was just awesome to be there with them and watch them improve as they figure it out."
Grace, a senior with a Film Studies minor, was lead cinematographer. He enjoyed having multiple perspectives and asking the TA for advice while working on the film.
"It was cool because I felt like we were all learning at the same time because none of us were professionals," Grace said. "We kind of just all went through it together and were there to support each other through the learning curve."
Although producing the film came with challenges, the group banded together and pushed through to figure out what worked for the film. 
Predenkowski, a senior and producer on the film, said that "organization is the biggest key. Staying on track, timeline and schedule is really important."
Briscoe, a junior with a Music Industry minor, was the sound designer for the film and assisted with the post-production process. 
"I really enjoyed the whole filmmaking process in general," he said. "You can bring together people who are good at different things and just make something that's incredible, so that's really my favorite part about it." 
Now Welfley is taking his film experience from "Home of the Brave" and applying it to a new film called "Curtain Call."
"It showed me that (film making) was fun, and it was worth it and it's what made me ultimately, genuinely want to pursue it as a career," he said.