Professor O'Reilly finishes new film 'Suspicious Minds'
Media Arts and Design
---
"Suspicious Minds," the latest short narrative film from SMAD professor Imelda O'Reilly, features Wizard of Oz references, a Gaelic version of an Elvis Presley song, and traditional Irish dancing, which was partially inspired by O'Reilly's family tradition. It also includes a cameo of African-American dancer Morgan Bullock, who is from Virginia and is a champion Irish dancer.

O'Reilly, an indie filmmaker who has been a professor at JMU since 2016, has written, directed and produced short films internationally. She recently finished "Suspicious Minds," and she said she hopes to submit it to film festivals. The film pays homage to Ireland, the U.S., and the Elvis Presley song, "Suspicious Minds."
The story is about two Irish immigrants who find themselves at a Halloween rave in upstate New York and reminisce about their homeland. One character is dressed in a gold Elvis suit and the female character is dressed as Dorothy from the Wizard of Oz. The character dressed as Elvis is struggling with ghosts from his past, while also carrying around a Panasonic radio cassette player. He hears his dad's dead voice on the radio. Over the course of the story, he resigns himself to letting go of the ghost of his past.

Tapping inspiration
O'Reilly said she pulled from personal and her family's experiences when creating the script.

"I had two images that inspired me. When I was growing up in Ireland, I studied Irish dance, and I won numerous medals at Feis, which are Irish dance competitions. During the pandemic I was remembering how my dad's side of the family are champion Irish dancers," O'Reilly said.

She said the first Irish dance she performed was called "King of the Fairies," which is a hard-shoe hornpipe — a dance of various versions, traditionally performed in hard shoes.

"I also remembered growing up in Ireland we had American cousins visit one year and when they came they gifted our family a cassette tape of Elvis Presley's songs titled 'The Sun Sessions,'" O'Reilly said.

A connection between places — in this case, Ireland and America — plays a big role in the film's structure, as illustrated by having a dance featured by Morgan Bullock —  who is an American Irish dancer.

"There are a lot of Irish-Americans here and the theme is a blending of cultures — how American culture inspires Irish people and vice versa," O'Reilly said.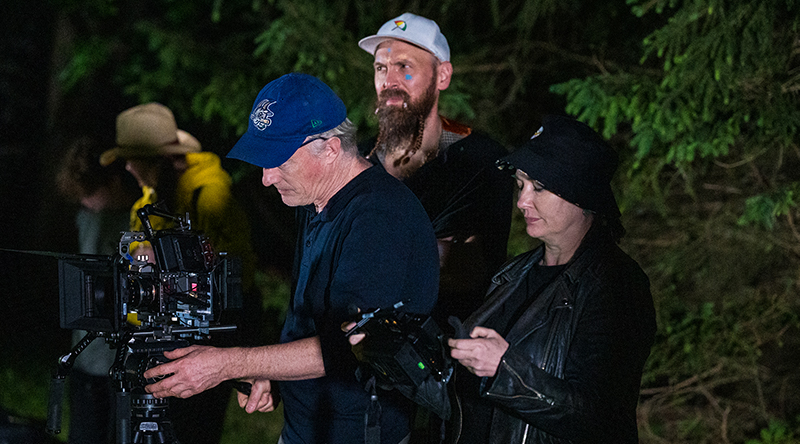 The filming process
O'Reilly had been working on this film for a year and a half as it was shot in two different countries. In 2021 she filmed at the Catwalk Art Residency in Hudson, New York, and then the following summer she filmed at the Portarlington Bog in Ireland. She worked with more than 40 people on set while also collaborating with cinematographer Joe Foley and animator, Damarrius Thompson, to incorporate the use of 3D animation into the film.
In addition, she hired JMU alumni, Quinton Carr-Goodwin, who completed the JMU/SVA Summer program in New York.
"I love taking the blueprint of a screenplay and then translating that to the cinema. This process involves collaborating with actors, working with a crew who are the unsung heroes of the filmmaking process, they arrive before the actors and leave after everyone else is gone" O'Reilly said.
Even though O'Reilly faced some challenges during production, her passion and determination helped keep the team's spirits high throughout the filmmaking process. She said the filming process is similar to a team sport.

"Everything you do informs the next thing you do. You need three things to make a film: time, money and imagination," O'Reilly said. "Sometimes you have two of those things. Maybe you don't always have those three but you make it work. I love the artistic collaboration with actors and crew. I enjoy bringing a community of filmmakers together."