Media Arts and Design
SMAD alumni offer wisdom, support to students at SMAD Day '22
---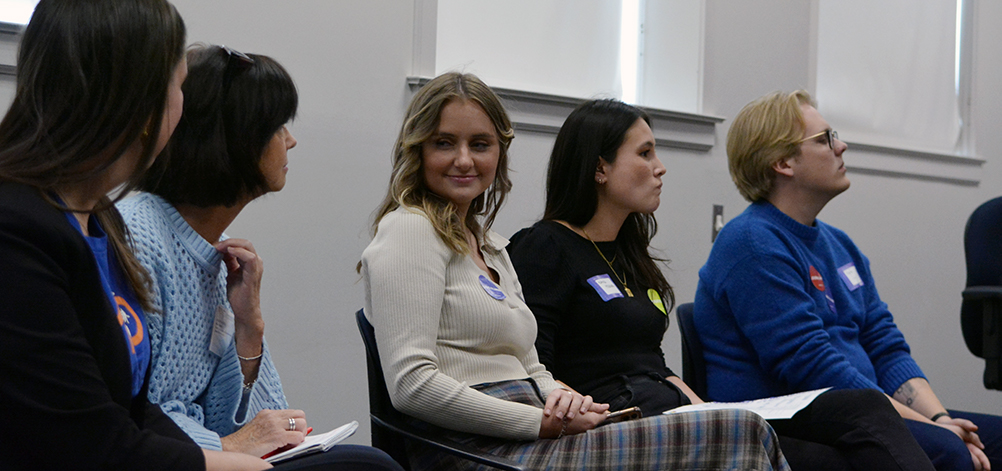 For the 30 alumni who returned to campus for SMAD Day over Homecoming Weekend, it was more than a chance to visit with their former professors. They dispensed advice to current students through panel discussions, question and answer sessions, and informal conversations with more than 200 students during the event. 
Tristian Lorei, a photojournalist who graduated in December 2020, said even though rejection can occur it does not take away the value that a potential employee can provide to a company. 
"It's just part of what you have to expect in a career field in media and oftentimes it can be really tough to deal with it, but I think pushing through and continuing to apply is the most important thing," Lorei said.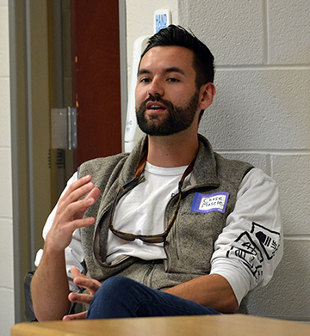 Chase Maszle, who graduated in 2017 from what was then called the Converged Media concentration and is now Interactive Design, now works at the Martin Agency and dabbles in creating media across platforms. 
"The biggest resounding message that I had throughout the day was that it's really really great to just ask people for help because when you ask people for help, they trip over themselves to help you if you just admit you don't know what you're doing," Maszle said. "You need someone to review your resume. You need a portfolio critique. It can go a long way and it can open a lot of doors that you never think would present themselves." 
Sid Yi, who graduated in 2017 as an Integrated Advertising and Corporate Communications concentration student (now known as Creative Advertising), said they tried to reassure students that a first job doesn't necessarily mean a person will be locked into that field. Yi switched from an advertising job to information technology at George Mason University, where they get to create media through web design, video, audio editing and graphic design.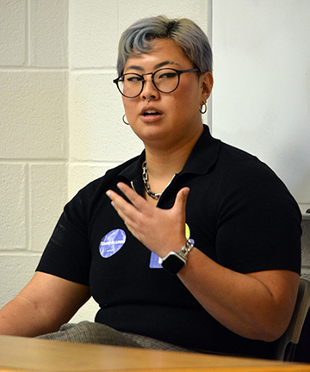 "The most important information I gave the students today was probably just to not stress about unexpected career changes and to also follow your morals and what you feel is right for you," Yi said. "I think that a lot of people follow that in different ways, and some people follow their passions. [For] some people, their passions align with their morals, which is great, but for me, it didn't and that's totally OK. I still use all of my SMAD skills in what I do today in IT." 
Current JMU students also gave their input on SMAD Day and many stated reasons why they attended the SMAD Day event. 
Andrew Poerksen, a Digital Video and Cinema concentration student, said his favorite part about SMAD Day was the resumé reviews because he benefited from receiving one-on-one time with a graduate. 
"The most important thing I learned was that it is best to show your attitude/personality and eagerness when applying for jobs," Poerksen said. "That can help you stand out and show that you are committed to finding a job best suited for you." 
Even a few students from outside of SMAD were drawn in by the event.

Katherine Burgess, a philosophy major, said she went to SMAD Day because she wants to be a screenwriter, and she said she liked how SMAD Day was open to all. 
"I would recommend SMAD Day because it introduces you to new possibilities in your field and opens connections you may not have thought you wanted before," Burgess said. 
Jake Nichols, who is a Digital Video and Cinema concentration student, came to SMAD Day because he said it seemed like a good opportunity to expand his knowledge of future possibilities and potential career directions. 
"Anyone who is serious about wanting to make waves in their potential professions should go to SMAD Day and see all the amazing things it has to offer," Nichols said.