The Breeze racks up major national journalism awards
Media Arts and Design
---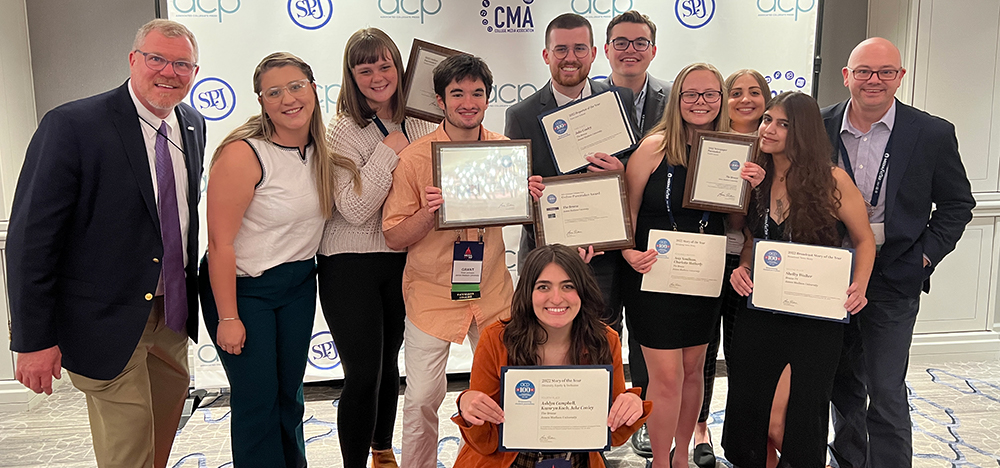 (Photo: Award-winning editors and writers from The Breeze — joined by Blake Shepherd, the ad/marketing coordinator, and General Manager Brad Jenkins — pose for a photo over the weekend after accepting their awards.)





The Breeze's online news site was named a national Pacemaker and a Breeze sports editor's story was named the national in-depth story of the year this weekend at a gathering of college media from across the country.
BreezeJMU.org was one of 17 online news sites awarded the Pacemaker, college media's most prestigious honor. In addition to the Pacemaker win for the website, The Breeze newspaper was a Pacemaker finalist. 
The newspaper and JMU's yearsbook, Bluestone, were also named to the Pacemaker 100, a list of the top 100 college-media organizations in the nation. That honor was based on the volume of Pacemaker finalist and winner awards over the past 100 years.
"The Pacemaker really represents the best of the best and it is appropriate that we recognize the rich tradition this award has in collegiate journalism as part of our centennial celebration," said Gary Lundgren, associate director of the Associated Collegiate Press. ACP sponsored the awards the staff received.
Also at the weekend convention, Grant Johnson received a national first-place award for in-depth news writing for his story during the summer about athlete mental health. Johnson reported and wrote the story in the aftermath of the suicide of a softball player during the spring 2022 semester. Johnson is the sports editor of The Breeze.
In addition to these top honors, several other staffers placed in other categories. They include:
Second place for broadcast story of the year for Shelby Walker's ('22) Breeze TV story about the memorial service for two Bridgewater College officers killed during a campus shooting.


Third place for reporter of the year for a portfolio of stories by former editor Jake Conley ('22).


Fourth place for diversity writing for a story by Ashlyn Campbell, Kamryn Koch ('22) and Jake Conley ('22) about the fallout from diversity training that received heavy criticism from alumni and others. The group used public records to report the behind-the-scenes discussions as university leaders responded.


Honorable mention for breaking-news reporting for a story by current editor Charlotte Matherly and Amy Needham ('22) about a gathering of students calling for more mental-health services on campus.
"Students who work in our college-media programs exemplify the university's goal of having students engaged in their learning," said Brad Jenkins, general manager of The Breeze. "In all of these honors, we see students reporting and writing about issues that matter to our community. This is what the best journalists do, and it's what we try to instill in our students."