Media Arts and Design
Former faculty advisers to The Breeze win inaugural Pioneer Awards
---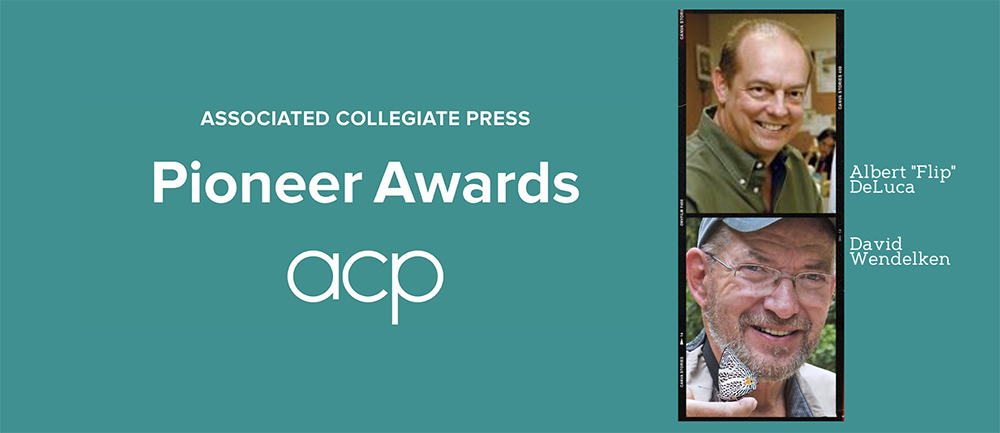 Two former SMAD faculty members and Breeze advisers, David Wendelken and the late Albert "Flip" DeLuca, have been named as Pioneer Award recipients in the inaugural class of recipients. The Associated Collegiate Press named the two among 101 inaugural recipients from across the nation.
"Pioneers are distinguished journalism educators and advocates who have provided exceptional leadership for collegiate media programs and made exceptional contributions to collegiate journalism and to the association in its service," the ACP said in its release.
Wendelken and and DeLuca, the only two advisers from Virginia universities on the list, were well-respected advisers and mentors to students at The Breeze. Wendelken, who taught at JMU from 1975-2015 advised The Breeze for 25 of those years and is a founder of Curio magazine, which still is the foundation of the SMAD 421 magazine production course. DeLuca taught at JMU from 1979-2005 and was the primary adviser to The Breeze from 1980-2005, during which the newspaper was a regular national-award winner. DeLuca died in 2008.
The Wendelken-DeLuca scholarship is named for them.
"Both Dave and Flip were significant mentors to me when I was an undergraduate student at JMU in the 1990s," said current Breeze General Manager Brad Jenkins ('99, '19 M.Ed.). "Now, as I advise students, I draw on their examples. Their style of advising – asking questions and building mentoring relationships with students – gave me the tools I needed for post-JMU journalism work, and it's what I hope to give students who work in student media today."
For more information on the Pioneer Awards, go to https://studentpress.org/acp/acp-pioneer-award/.