Media Arts and Design
SMAD senior gives JMU police cars a fresh look
---

By Meirra McChristian, staff writer
Police Chief Anthony Matos decided last spring that the JMU police cars needed a new look because of the many changes going on at JMU over the years. The vehicles were designed 20 years ago, and Matos wanted a more up-to-date redesign. 
Andy Genese, a senior Interactive Design concentration student, and Matos had already worked together to produce a new logo on tie pins for JMU police — a design aimed at embodying unity and community among the JMU police and students. Matos said Genese was immediately excited about the prospect of overhauling the cars' colors and design. 
"I'm thrilled with the design I created … I'm more thrilled to just see something I made than it's just the nitty-gritty of what the design is," Genese said. "But I do think it's a cool-looking vehicle and I have gotten great feedback from the officers and even from students who now see it." 
Over the summer, Genese drafted 15-20 options for the new designs to go on the vehicles. Matos selected the one he liked, and the first few repainted vehicles returned to campus with a modern look earlier this fall. 
"The purple we had before was a little bit lighter than the JMU purple. So, I said that I want the JMU purple, I want to be tied in with JMU, this is the JMU police department," Matos said. "The black on the back of the design ties us in with the Harrisonburg City Police Department. Their cars are black and white."
Matos said JMU and Harrisonburg police work closely with each other, so continuity in the color choices was important. And the yellow Genese selected represents what Matos calls a "look on the future." 
"I look at the yellow as the bond of integrity that solidifies a police agency … we are champions," Matos said.
The design process took around three months to complete. Genese started in late May and sent out the last designs in July. Genese was excited to take on this project because of his familial ties with law enforcement. His father worked as a police officer for part of his career. 
"I have had good experiences with law enforcement, but a lot of people haven't," Genese said. "My experiences are my experiences, and I'm lucky and grateful for that, and I feel for those who haven't had those kind of interactions with police." 
Matos said he was thrilled to have a student take on this project and work with him to develop something new for JMU. He believes the designs make a statement that the students and the JMU Police Department stand united.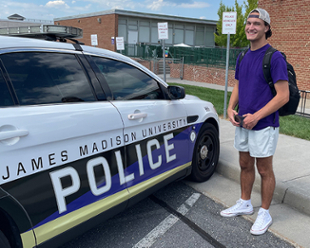 "I think it's very exciting what Andy has created and knowing that it came about with somebody in this university, in our department, [and] in your school. How amazing is that?" Matos said. "As I said, that is truly how a student would look at us and view us working together to achieve new heights."
While the first few repainted cars arrived at the beginning of the fall 2022 semester, in total 14 repainted cars will soon follow. 
"We have a beautiful campus, beautiful marketing, and I wanted the design of the car to match that because the police car was, frankly, outdated," Genese said. "So we wanted a car that represents what we are now — which is a nationally recognized institution."